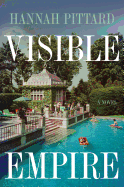 On June 3, 1962, a chartered plane crashed shortly after takeoff from Orly Field near Paris. Among the dead were 121 of Atlanta's most influential civic leaders, philanthropists and arts patrons, all returning home after a three-week museum tour. Thirty-three children and young adults lost both parents in the disaster, which Mayor Ivan Allen declared to be his city's "greatest tragedy and loss."
A native of Atlanta, Hannah Pittard (Listen to Me) has constructed Visible Empire as a tight, compact work of historical fiction based on this event. In this, her fourth novel, Pittard explores the emotional wreckage and recovery of a community impacted by tremendous loss. While she could have chosen to write a strictly historical account of the incident (Mayor Allen is one of several real-life figures in Visible Empire who actually experienced the tragedy's aftermath firsthand), Pittard's literary prowess is on full display through her ability to intermingle fact with fiction.
The novel grounds the reader firmly in the chaos and confusion that engulf Atlanta in the month following the crash, as its residents begin to grasp the scope of the tragedy and attempt to cope with their shock and grief. The devastating impact of their collective loss becomes palpable. "In short, it felt like everyone because... it was everyone," Pittard writes of Mayor Allen's emotionally shell-shocked wife, Lulu. "It was everyone she cared about, and they were all gone in a single, heartbreaking, unbelievable whop."
The abundance of unforgettable characters gives Visible Empire the feel of a novel in linked stories form, as Pittard skillfully pivots her narrative around three distinct yet interconnected perspectives.
Newspaperman Robert Tucker is planning to leave his very pregnant wife, Lily, for Rita, a "girl about town" reporter assigned to cover the trip. Shortly before boarding the ill-fated flight, Rita pens a fateful, decisive letter to Robert, a missive that will survive the crash. Despite the death of his mistress (or maybe because of it), Robert confesses his affair to Lily and proceeds with abandoning his expectant wife, whose parents also were among those killed.
As he unravels further and descends into drunken binges, Robert and fellow ne'er-do-well P.T. Coleman (who lost his wealthy parents) recruit African-American teenager Piedmont Dobbs to drive them to a mysterious, remote mansion in the middle of the night. The hidden enclave turns out to be affiliated with the Ku Klux Klan.
Piedmont, who ran away from home after his application to attend one of the city's all-white high schools was rejected, symbolizes the divisions and tensions defining a city on the cusp of change. He wants a better future, but feels guilty and conflicted about how much he is personally prepared to sacrifice, especially when compared to his emerging activist friends. "Whenever Michael and Jeremy talked about the meetings they attended, Piedmont would wonder about his own responsibility with regard to the Negro Cause. He wondered if it was okay to sit back, keep his head down, and wait for whatever improvements those around him might acquire on his behalf. He wondered if he even believed a better future was possible."
Finally, Pittard uses Anastasia Rivers's storyline to further illustrate the crash's capacity for exposing long-buried secrets and shattering all that friends, lovers, family members and colleagues thought they knew about the people in their lives. Anastasia is a beautiful diver who performs to the delight and pleasure of wealthy diners--and a sexist manager--at a newly constructed downtown Atlanta hotel.
To get the job, Anastasia rewrites her personal history: instead of having been abandoned by her parents and left under a bridge with her twin brother, Billy (which, admittedly, already is dramatic enough), she concocts an even more elaborate Grimm-like rags-to-riches-to-rags tale. In what is perhaps Pittard giving a subtle nod to Oscar Wilde and his Dorian Gray, Anastasia attracts the attention of Genie Case, a socialite who deliberately seeks out and seduces Anastasia to stave off her inevitable aging and satisfy her own hidden, then socially unacceptable desires.
Pittard's ability to weave these three seemingly disparate narratives together makes Visible Empire a dizzying yet compelling, dramatic read. She brings the reader into the heat of Atlanta's sizzling summer of 1962, with nostalgic details defining an era. This is a time when people smoked in public, called collect (the constantly ringing phones evoke a time when breaking news was communicated through one-on-one conversations, not tweets or vibrating texts), drank during pregnancies and placed the baby in "the basket in the backseat and pulled around the buckle to keep it from shifting" as they drove. One almost expects to see Mad Men's Don Draper at the wheel.
Still, despite these unassuming, quaint-sounding and downright dangerous bygones, Visible Empire feels familiar. The snare drum of change that was sounding in 1962, combined with the racial, sexual and cultural tensions and inexplicable losses that soon would test the resiliency of a nation, has relevance as it reverberates more than five decades later. --Melissa Firman