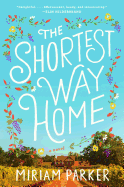 Hannah Greene has her life all planned out--or thinks she does. She's landed a dream job right out of business school, and is envisioning a high-powered New York City future with her boyfriend, Ethan. But a weekend trip to Sonoma County right before graduation changes everything. When Hannah falls in love with Bellosguardo, a small local winery, she talks her way into a marketing job there, giving up her hard-won position at Goldman Sachs and the plans she and Ethan have laid. Despite the winery's appeal, Hannah's 180-degree turn isn't without its stomach-flipping bumps and surprising curves. Miriam Parker's debut novel, The Shortest Way Home, follows Hannah's journey as she struggles to navigate her new path despite the weight of everyone else's expectations (and her own).
Parker paints her setting perfectly: the neat rows of vines, with rosebushes planted at the ends; the spacious tasting room with a high-beamed ceiling; the winery's resident dog, Tannin; and Felipe, a friendly Chilean sommelier. But although the setting is paradise, Bellosguardo's future may be in jeopardy. The owners, a married couple, have hit a rough patch in their relationship and their business, and their only son, William, is moving to New York to pursue his filmmaking dreams.
Gradually, Hannah settles into her new life, making friends with the taciturn winery owner, Everett; his wife and co-owner, Linda, who handles distribution and ordering; and several local personalities, including Celeste, a blonde whirlwind who becomes Hannah's source of local gossip and connections. Long days at the winery, putting her freshly minted business degree to work, are punctuated by wine tastings, trips with Linda to visit clients (and attempts to increase their orders) and plans for a big party at the winery, complete with local musicians and plenty of Bellosguardo's best bottles.
Meanwhile, Hannah struggles to sort out her feelings for Ethan and decide whether she really wants the future they had dreamed of together. She also wonders what her family back in Iowa--her widowed mother, her happily married brother and his children--are making of her out-of-the-blue decision. While Hannah has always longed for a more exciting life than her mother had, she worries that she's disappointing her family by making choices so different from theirs.
Parker tells her story in Hannah's voice, sharing both her protagonist's delight at the beauty of Sonoma County (and her picture-perfect cottage on the vineyard's grounds), and her anxiety over having made a rash decision that could upend her life. While she doesn't regret giving up the Goldman job, and is increasingly convinced that Ethan wasn't the right guy for her, Hannah second-guesses her new career path at every turn. Can she make a success of the winery? Will this new place, far from everything she knows, eventually become home? And can she navigate the tricky web of relationships at Bellosguardo, especially the chilly dynamic between Linda and Everett?
Parker's characters are flawed but likable, especially Hannah, whose zeal for her newfound career threatens to overwhelm her colleagues at times. But with a combination of luck, enthusiasm and marketing savvy, she pulls off a successful party and begins to take the winery's production and visibility up a notch. Meanwhile, she knows she can't hide from the consequences of her decision forever. Whether it's finally sorting things out with Ethan or calling her mother (bracing for disappointment in both cases), Hannah must find the courage to own the twisty, unconventional path she has chosen for herself. While it's tempting to dive straight into a new relationship, she also knows she needs to figure some things out for herself before she can give her full attention to another person.
Hannah isn't the only one struggling with life and love. Linda is dealing with long-held resentments toward her husband, both professional and personal. Felipe misses his family back in Chile, though he enjoys his work with the vines. William tries to make a go of writing and shooting films in New York, but feels drawn back to his family's winery (and, increasingly, to Hannah). Even Everett, a man not given to dealing with his emotions, must face up to some new realities in his work and his marriage. Each of the main characters is on his or her own meandering, entirely relatable journey, perfectly evoking the James Joyce lines that inspired the book's title: "Think you're escaping and run into yourself. Longest way round is the shortest way home."
Packed with good books, California sunshine and glass after glass of local wine, Parker's debut is a sweet, funny, charming novel of a woman daring to upend expectations (her own and everyone else's) to make her own way. Readers will toast Hannah's roundabout journey and perhaps be inspired to take a detour or two of their own. --Katie Noah Gibson