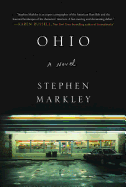 It began with the economic devastation of cities and towns in America's Rust Belt, and the housing crisis that sparked the Great Recession of 2007-09. It accelerated when the news of thousands of deaths annually from drug overdoses, many of them in the country's small towns and rural areas, started making headlines. And it culminated in the political tsunami of 2016, when voters in many of those same communities tipped the electoral balance in Donald Trump's favor in Pennsylvania, Michigan and Wisconsin and sent him to the White House.
Nonfiction writers and memoirists like George Packer (The Great Unwinding) and J.D. Vance (Hillbilly Elegy) have captured the roiling sense of unease and dislocation that has gripped the United States in the first two decades of the 21st century. It was inevitable that an ambitious novelist eventually would take on that task. In his bold debut novel, Ohio, Stephen Markley visits the fictional northeastern Ohio town of New Canaan to paint in vivid colors the shattered dreams and stunted lives of young adults removed by roughly a decade from their high school graduation. It's an intensely realistic and keenly observed portrait that puts a human face on subjects often obscured by statistics and expert opinion.
Structured as four novella-length sections and a brief, shocking coda, the contemporary action of the novel unfolds over the course of a single night in the summer of 2013. On that evening, four people--three of them members of the Class of 2004 and one two years their junior--return to New Canaan, "the microcosm poster child of middle-American angst," to deal with some painful or difficult piece of unfinished business.
Bill Ashcraft, a bitter critic of the wars in Iraq and Afghanistan whose political activism has foundered as a result of an intemperate tweet, is carrying a mysterious package from New Orleans to earn $2,000. Stacey Moore, a graduate student in literature, comes home for an encounter with the mother of her high school lover Lisa Han, missing since graduation, and to deliver a letter to her estranged brother. Dan Eaton, a veteran of multiple deployments to Iraq and Afghanistan who has lost an eye in combat, returns to visit a former girlfriend. And Tina Ross, who's never made it farther away than the nearby town where she works at Walmart, is back to avenge a terrible wrong inflicted on her.
Markley slips effortlessly from each character's crisis on that single night into reminiscences of their high school days. But these are anything but the happy recollections of idyllic prom dates or joyful autumn nights at the football stadium. There are darker memories unleashed here, ones that include rape and a suspected murder.
All of those memories have been shadowed by the specter of 9/11 and the economic decline that seems to have slowed the characters' progress into adulthood. "Their generation, the classes of the first five years of the infant millennium," as Markley sums them up, "were all stepping through life with a piano suspended above them and bull's-eyes on the crowns of their skulls."
Dan Eaton, for one, who's been emotionally and physically devastated by his service in the wars of the Middle East--his anguish revealed in vividly rendered scenes--comes to question the point of that service as he reflects on the death of Rick Brinklan. Rick is one of several losses from the high school football team (the death of the quarterback by overdose among them), whose star, Todd Beaufort, loses his grip on dreams of fame at Ohio State and an NFL career.
And though it's been spared the worst of the damage of industry fleeing for places where cheap labor is readily available, their home town, New Canaan, seems as if it's treading water. Like some of its real-life counterparts, the town, "one of the minor places that bore the aftershocks of deindustrialization," reflects the telltale signs of decay. The steel plant, an "ugly industrial boil" that closed in the 1980s, has been left standing by a town "hoping that someday whatever mechanized processes lay inside would simply start back up of their own accord."
But for all his evident desire to make a big statement about America's current troubled temperament, Markley doesn't neglect the intimate dimension of his characters' inner lives. In the most emotionally resonant section of the novel, for example, he describes the love between Stacey Moore and Lisa Han, an affair whose intensity is equal to the risk these high school girls take that their relationship will be exposed. It's a profoundly empathetic and moving portion of the novel. And in the novel's concluding scene, when Bill Ashcraft confesses to Stacey, "You have no idea how much I miss all of them. How sorry I am for everything," we've come to share his sense of regret.
Ohio is a dark and deeply felt examination of a generation confronting problems that can't be solved quickly or with ease. It won't be the last novel written about the current troubles in small-town America, but it has earned a place in any conversation about the important role fiction can play in reflecting life back to us when we look squarely in the mirror. --Harvey Freedenberg