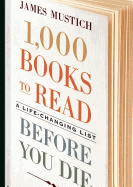 Many avid readers have a "book bucket list": that hefty classic they've always meant to tackle, that series they'll get around to someday, that book their mother or husband or best friend loves that they've just never managed to try. But 1,000 books to read before you die? Sounds intimidating, to say the least.
Fear not. James Mustich, a longtime bookseller, voracious reader and a co-founder of the acclaimed book catalogue A Common Reader, has taken has taken on the task: he's compiled a massive, eclectic, surprisingly accessible list of 1,000 Books to Read Before You Die. The fifth installment in Workman Publishing's 1,000... Before You Die series, Mustich's book is an erudite, lively encyclopedia of gems from many genres. Organized alphabetically, it runs the gamut of taste and time: classic novels, myths and plays; beloved mysteries and children's books; acclaimed contemporary fiction; seminal works of cultural criticism and much more. But it is not, as Mustich insists in his introduction, a canon or a prescriptive list. Rather, it's an invitation to explore. Begin at the beginning, the end, or anywhere you like. Flip through the entries; search for your favorites or for what might be missing. And--almost certainly--enjoy a few moments of serendipity along the way. 1,000 Books to Read Before You Die will likely encourage booksellers and readers to participate in a communal conversation around the importance of books in our lives.
"A book about 1,000 books could take so many different shapes," Mustich admits in his introduction. The shape of this one is, essentially, a virtual bookstore. At once expansive and meticulously curated, it includes "not only books for all time but also books for the moment." As readers wander through its pages, Mustich hopes they will discover "a browser's version of paradise." He freely admits the challenges involved in compiling such a list: the need to include certain essential classics, the equally pressing need to draw in a diversity of voices from varied countries, eras and languages. And while the book is heavy on Western literature (classic and contemporary), it does include a number of voices that aren't standbys on English-class syllabuses.
The act of compiling a list like this, as Mustich notes, inevitably exposes the list-maker's own privileges, prejudices and omissions. But the final list is also--as it should be--"personal and sometimes peculiar." Readers will almost certainly find themselves inclined to argue about the inclusion of some texts and the omission of others, but that, Mustich exclaims joyfully, is the point. This is "an invitation to a conversation--even a merry argument", and avid readers will find plenty of material for both here.
The book is organized alphabetically, which leads to some strange bedfellows: Jean-Jacques Rousseau lands right next to J.K. Rowling, and Cormac McCarthy's grim post-apocalyptic novel The Road appears just before Robert McCloskey's classic picture book Make Way for Ducklings. But this system, in addition to being democratic, helps lend the book its feeling of wandering in a capacious yet well-curated bookstore. You never know what you might find on the shelves, but you can trust that many, if not most, of the essentials are here.
Mustich can't resist a bit of instruction along the way: he gives some authors--Mark Twain, Jane Austen, Simone de Beauvoir--their own mini-sections, with biographical sketches and brief entries on several of their best-known works. But even the shorter entries often contain surprising facts about the books, the authors and their respective histories. All of them are packed with helpful endnotes suggesting other worthy titles by the same author, or similar books for readers to try.
Mustich's joy in stories and storytelling is by no means limited to the printed word: he also recommends audiobooks, film and theatrical adaptations (where available). As if that weren't enough, dozens of entries contain handy cross-references to other entries in the book, making the compendium less overwhelming and more navigable. Occasionally, Mustich fits in a few more books under a topical heading, such as "Books on Books," "Heroic Fantasy" or "Space Opera," and at the very end, "A Miscellany of Special Lists." These mini-lists, in particular, read like a conversation with an enthusiastic bookseller who simply can't help recommending just one more book (or six).
The best way to use this book is, in fact, to wander: flip through a section or two, go back and forth looking for something you thought you saw. Read the endnotes, skip a few entries or whole sections, only to find them again later. In short, "Read at whim!" as the poet Randall Jarrell entreated his readers. Mustich invokes Jarrell in his introduction, and it's good advice: with a list this extensive, whimsy is not only enjoyable but absolutely necessary.
Thoughtful, often witty, informed and unfailingly enthusiastic, Mustich's collection fulfills one more aim of every bookstore worth its salt: inspiring readers to dive headfirst into a good book--especially one (or 12 or 50) they didn't know they were dying to read. --Katie Noah Gibson