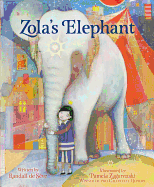 In Randall de Sève and Pamela Zagarenski's first picture book collaboration, a nameless young girl imagines that her next-door neighbor lives in a stunning, vibrant world... with a pet elephant. Intricate and beautiful, Zola's Elephant displays a perfect balance of text and illustration while asking all readers to remember that what we think isn't necessarily what is true.
A young girl looks out the window at a family moving in next door. A mini, apple-cheeked Pierrot, the girl is dressed whimsically in harlequin-style red-and-white checked pants and a ruffled collar, holding a toy elephant wearing a red-and-white striped hat identical to the one atop her pigtails. The new next-door neighbors stand in front of a massive stack of boxes while, in the background, two movers struggle with a large crate marked "fragile."
"There's a new girl next door," the girl's narration begins. "Her name is Zola. I know because our mothers met this morning and decided we should be friends. But Zola already has a friend. I know because I saw the big box." One might wonder what kind of friend would arrive in a "big box" but the girl is certain she knows what it is: "You need a big box to move your elephant."
Peering through the window, the girl imagines an elephant curled up inside the enormous box. The acrylic-on-wood illustration depicts her imaginary world in the colors of a nebula, everything in shades of blue, green and gold. An otherworldly star chart overlays, with words like "magic" or "believe" in place of the more common words like "equator" or "elliptic."
The nebula-like palette continues onto the next spread as the Zola she imagines throws slices of toast to her elephant: "You also need to feed your elephant as soon as it arrives.... I know Zola's feeding her elephant now because I smell toast. Lots of toast." But the next page turn shows the reader what's really happening. The glorious colors are gone, replaced by doleful blues and grays. Zola sits alone, using the big box as a table for her toast and tea. With the next page turn, we are again back in the world of imagination. This back and forth continues as the reader is shown the glorious, fanciful scenes the narrator's mind creates as she comes up with excuses to not go meet Zola and her elephant. Hearing hammering, she imagines Zola and her elephant are building a clubhouse; in reality, an adult is assembling furniture while Zola holds her hands over her ears.
The narrator is sure Zola's clubhouse is "very cozy with pillows and curtains and a carpet of stars.... Perfect for sharing stories." And, in her imagination, it is: the clubhouse looks like a circus tent and Zola naps tucked into the elephant's trunk. "I like stories," she thinks, "and clubhouses and playing hide-and-seek and taking bubble baths with elephants. I really like elephants." And so, there are no more excuses--she simply must meet Zola and her elephant.
The narrator walks across the yard to Zola's front door and knocks. The girl is invited in, only to discover that there is no elephant--the box holds a couch. "Okay, so maybe Zola doesn't have an elephant. But do you know what she does have? A new friend."
Bestselling author Randall de Sève worked on Zola's Elephant for years, trying Zola many different ways, "including using alternating narrators." When "the versions got too tangled up," she "put the story away for a while" to clear her head. When she returned to Zola and her elephant, she simplified the story, creating the delightful and concise narrative Zola is now. Caldecott Honoree (Sleep Like a Tiger) Pamela Zagarenski's striking acrylic on wood illustrations work perfectly with the text, telling both the written story and the story in between. Of Zagarenski's illustrations, de Sève said, "I don't even know where to begin gushing: Perhaps at the vibrant colors and endless patterns on every page... the stark contrast between real... and imaginary... worlds, the timeless designs of costumes and architecture, the compositions that keep your eyes moving and searching and never growing tired... Or how brilliantly Pamela imagined this short but complex story."
And complex the illustrations most certainly are: visual themes travel from page to page; there are secondary and tertiary storylines in the illustrations and in the interwoven designs; and the endpapers expand upon de Sève's tale. "I always imagine endpapers as pictorial extensions of the story," Zagarenski said. "While I painted these pages I personally experienced the 2017 solar eclipse. It felt like a larger-than-life event." Zagarenski included the sun, the moon and the stars throughout the picture book to build on that event and as a "reminder" of "our constant and mysterious companions." In the endpapers, she painted the sun, the moon and the eclipse in the sky, "both day and night happening simultaneously."
Zola's Elephant's easy-to-read text gives many access points to young readers while the material itself poses grander questions for older readers to mull over. Zagarenski's illustrative interpretation of the text is as vibrant and intricate as the text itself, certain to draw in pre-readers and readers alike. A deceptively simple tale, Zola's Elephant has depth to consider and explore. --Siân Gaetano, children's and YA editor