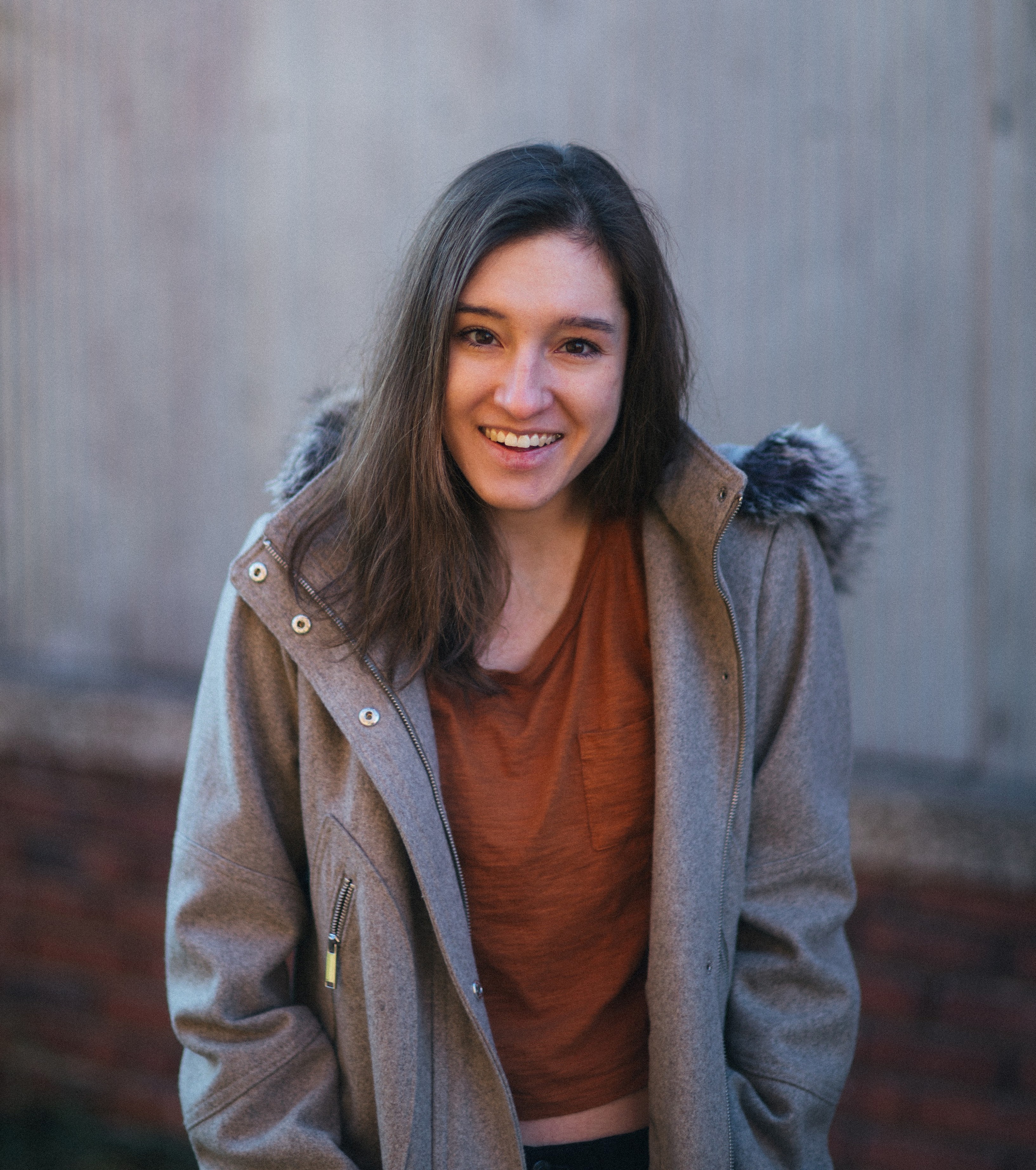 photo: Alec Vanderboom
Brenna Thummler is an illustrator who grew up in northwestern Pennsylvania, where she developed a deep love for hiking trails, peanut butter and ghost stories. After receiving her BFA from Ringling College of Art and Design in 2015, she relocated to Kansas City. Her first solo graphic novel for young readers, Sheets, will be available from Lion Forge on August 28, 2018.
What is your artistic medium? Are those the materials you always use? For any particular reason?
I completed all the line art for Sheets in pencil on paper, then added color digitally. This is the method I've always used, so my level of comfort certainly influences my continued use of the medium. But more than that, I love the organic look of the pencil, which is difficult to truly replicate on the computer. Adding color in Photoshop is a faster solution that allows for experimentation and quick fixes, and there's a nice balance between the roughness of pencil and flat simplicity of digital color.
Sheets is your second full-length graphic novel for children; you both illustrated and wrote this one. Is there a different process for creating the art for your own words than for another's? Do you prefer one over the other?
Illustrating my own story certainly had its differences! I had complete control, which was intimidating, especially because I'm not the best decision maker. No appearances or actions or personalities were handed to me, which required a lot more planning. With the characters and setting already established in Anne of Green Gables, and film adaptations with even greater visual inspiration, I had a lot to work with. For Sheets, I spent the early months sketching character ideas, researching potential settings, and then laying out the entire story in panels, while trying to maintain the voice and tone that I had built. It's a challenge to create something from nothing, but it's also liberating to have control of a world that is entirely my own, and characters that rely on me to live their stories. I enjoy both--illustrating others' words and my own--but while I'm still in the early stages of my career and have a lot to learn, I hope to continue my role as author.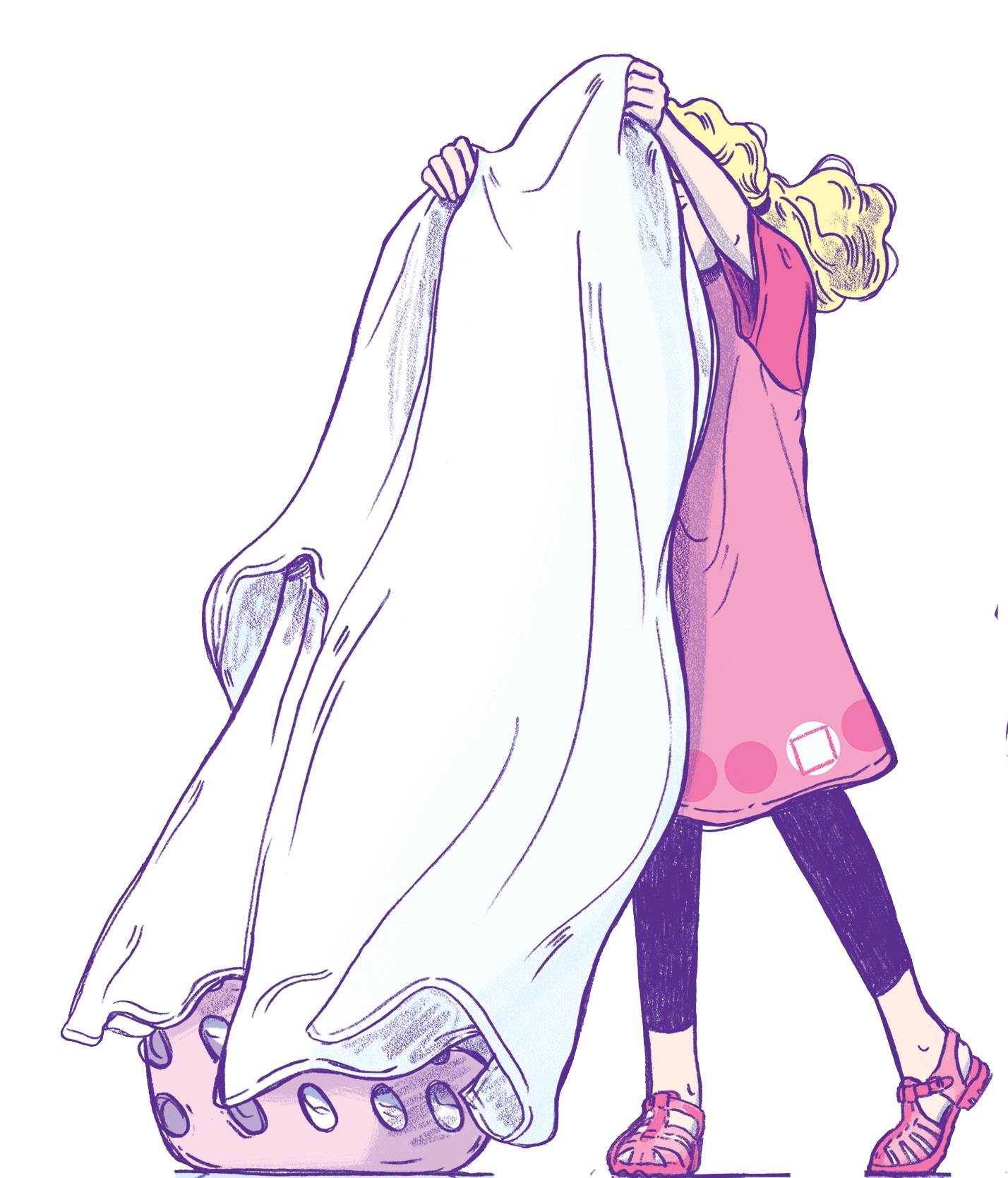 Where did the inspiration for this story come from?
I have always loved ghost stories and Halloween, so these topics are usually dancing in the back of my head. In my sophomore year of college, I started thinking about ghosts represented by sheets, and what would happen if they ended up in the laundry. While I loved thinking about bizarre scenarios, I also felt very real and overwhelming emotions. Sheets grew from my loneliness, which, in combination with my ghostly fantasies, transformed into a story that is very "me." It is a mix of whimsy and melancholia, which may seem like an odd combination, but I believe it reflects the magnified highs and lows of the human experience.
The ghost world is illustrated in shades of blue and gray, while Marjorie's world has color, but all in softer shades, with a lot of blues, grays and pinks. Was this a conscious choice? To keep Marjorie's world a little "washed out?"
The subdued color palette was an important decision. I meant to mirror Marjorie's state of mind and the story's melancholy tone. Readers will see that in flashbacks, the colors are warmer and more cheerful, to show where Marjorie has come from. I like to think of this as a sign of hope-- just because the present is not bright, that doesn't mean the past and future aren't.
Why is it your ghost so enjoys telling ghost stories?
I think that, especially for Wendell, telling a ghost story is like a confession or expression of self. When he tells his own ghost story, he's coming to terms with the fact that this is his reality. Even though it upsets him, it's still a big step in his personal growth. Ghost or human, we all have things that we regret or resent, and by accepting them for what they are, we learn to move on.
Are you working on anything else at the moment?
I have new story ideas in development, but I'm in the very early planning stages, as I turn to my life and laundry for inspiration. I am also a freelance editorial illustrator, so this keeps me busy as well.
Do you have set times every day that are optimal for inspiration and work?
I love early mornings. The birds are chirping, the sun is pouring through the windows, and there isn't a lot on my mind, yet. Unfortunately, inspiration likes to come and go as it pleases, and doesn't always concern itself with my favorite time of day. But I definitely feel a certain energy in the morning that motivates me to dive into drawing.
Do you personally believe in ghosts?
Of course! My imagination might be trying a little too hard to convince me of their existence, because as a fan of ghost stories, I so want them to be real. But I've certainly had my fair share of questionable encounters! --Siân Gaetano, children's and YA editor, Shelf Awareness