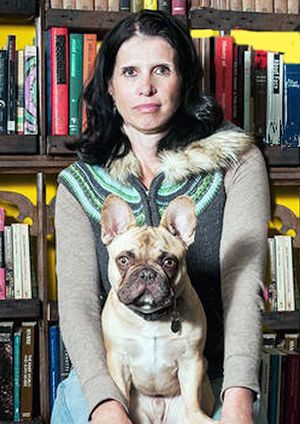 photo: Tedd Henn
Mikita Brottman is the author of several previous books, including The Great Grisby and The Maximum Security Book Club. She is a professor of humanities at the Maryland Institute College of Art and lives in the former Belvedere hotel in Baltimore, Md. An Unexplained Death (Holt, November 6, 2018) is a work of nonfiction about a mysterious death at the Belvedere.
You have a great interest in true crime. Was there a particular event or experience that triggered this curiosity in you?
There was no particular event or experience in my own life. I think everybody is fascinated by crime! The impulse to commit a crime is, in most cases, extreme emotion--passion, desire, lust, envy, greed, longing, desperation. Human relations are writ large in these acts. We're compelled to look hard at them in order to better understand ourselves.
You tell your readers, "I am not a gawker; I am a connoisseur." How would you define each of these distinctions?
I don't know if either impulse is distinct or discrete. That line comes at the end of a section of the book where I defend against the common assumption that "morbid curiosity" is inherently unhealthy. As I try to explain in the book, we feel uncomfortable today when someone thinks and talks about death "too much." We've lost the tradition of keeping death in mind at all times--the medieval idea of the memento mori.
Did you know right away that Ray Rivera would be the subject of a book for you? If not, what was the deciding moment?
I knew right away.
Then how did you determine the waiting period before you would try to contact his friends and family?
I tried contacting them early on and got no reply. I decided to try again a few years later, when the case had disappeared from the local media and the most immediate pain would be over.
In the book, you refer to yourself as an amateur and note that you don't have a lot of traditional research channels. How do you start an investigation in that situation?
I started by talking to other people in Baltimore who worked on the case. I also talked to people with more experience than me and got their advice--investigative journalists and so on. I had the advantage of time and no deadline, so I could keep going indefinitely.
What's something about the process of writing a book like this that you know now that you wish you would have known when you started your investigation?
One thing I wish I'd realized more fully is that if you're really curious and interested in something, most people really do want to talk to you, and are happy to open up and share with you, even if it's about a subject that might seem very difficult, like a loved one who suffered a violent death.
You went through quite an ordeal trying to obtain the police report for Rey Rivera's death.
If a police homicide investigation is still active, all files are going to be closed, so the Freedom of Information Act won't apply. This is understandable if police are still working on a case. But this case is now 12 years old, the original police investigators have retired, and there hasn't been any activity for years. In situations like this, you can't help but get the sense that the case file is being kept "active" because it was badly handled, and the police aren't being transparent.
An Unexplained Death is much more than just an investigation into Rey Rivera's mysterious death. How did you determine what content to include?
Of all the fascinating sidetracks I went down, the ones I ended up including were those that connected most clearly to the death of Rivera (although I didn't really want the book to be a traditional "true crime narrative"), such as the research I did into suicides in hotels, and in this hotel in particular.
Throughout this investigation you received warnings and people expressed fear for themselves or their families if they talked to you. Yet, you didn't feel any fear yourself.
I come back to this at various points in the book, but in short, it's because people usually don't pay much attention to me or remember me--I often experience myself as invisible. I guess I feel as though I'm not important or threatening enough.
One of the reasons people give for enjoying crime fiction is the satisfaction of answers that you point out often don't exist in reality--the whys, the motives. Do you feel any need for that resolution in true crime?
"True crime" is a genre with certain conventions of its own--it usually has a strong emphasis on the restoration of order following the moment of chaos. Police procedure plays an important part. In this sense, "true crime" is a misnomer, because in reality, chaos is the dominant force, not a transitory moment. Most crimes are not solved. When I'm writing about something that really happened, I try to show that reality. --Jen Forbus