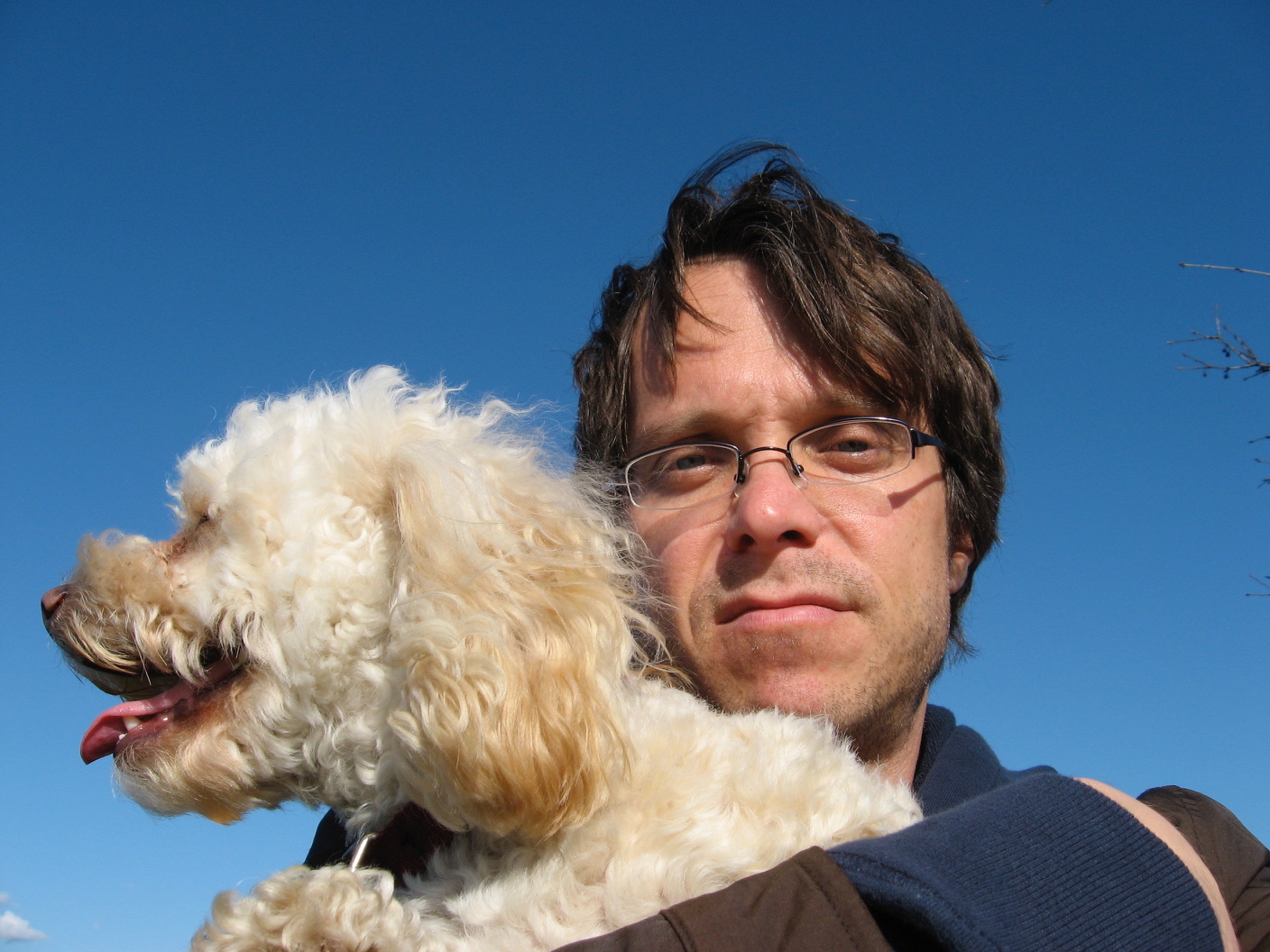 Harry Bliss with Penny
Harry Bliss is an illustrator and cartoonist. He is known for his New Yorker cartoons as well as his many children's book illustrations (Bailey; A Fine, Fine School; Diary of a Worm; My Favorite Pets). He and Kate DiCamillo worked together previously on Louise, The Adventures of a Chicken, and had planned for years to team up on a kids' book about dogs. Candlewick will publish Good Rosie! on September 4, 2018.
Is Good Rosie! the book you imagined when you and Kate DiCamillo first started talking about doing a dog book together?
Initially, I imagined doing a book of dog-related poems. But then Kate sent a narrative about an introverted dog and I thought kids could really relate to Rosie. As a child, I was a lot like Rosie. I spent a lot of time alone and was reluctant to open myself up to other children.
What made you decide to take the paneled approach to this particular book?
Comics are a wonderful way to introduce young readers to the joys of books and I wanted this book to have the feel of an early reader, not intimidating for children. There's something wonderful that happens in comics--the narrative that we don't see in between the panels, the time elapsing in the story which our imagination makes up. I have always found that aspect very intriguing.
The illustrations for Good Rosie! are in watercolor. Is this your preferred medium for kids' books?
I adore watercolors. I have been working with watercolors since I was 10 years old. I have never been asked this question before, but yes, I feel watercolors are a wonderful medium for children's books. There's a lightness and sincerity in this medium--a drawing medium, only with color. Moreover, I'm a Pisces... fish.
How does the process for creating cartoons differ from illustrating a book written by someone else? Do the words of the story "speak" to your illustrations?
Well, cartoons are one-offs, single-panel narratives, not multiple panels for pages, so I don't have to keep a consistency of character(s) going for 32 pages like I do in books. With cartoons, the viewer has to imagine a narrative leading up to that single panel, as well as the narrative that follows the panel. Imagining those two narratives will often inform a caption for the cartoon. When I do books, whether I write them or someone else writes them, the narrative is far more illustrative and complicated. A cartoon will take me two hours; a children's book will take me 10 months.
Only a true dog lover could capture the priceless expressions and poses of Rosie, Fif(i) and Maurice the way you do. Who is the dog in your life right now? Is she/he jealous of your relationship with Rosie and Co.?
Ha! My dog Penny would most certainly be jealous of Rosie; she has me wrapped around her little paw, which interestingly enough, smells just like corn chips. Penny is 12 years old and has developed a little arthritis, but she's still pretty active--woke me up at six o'clock this morning for breakfast.--Emilie Coulter