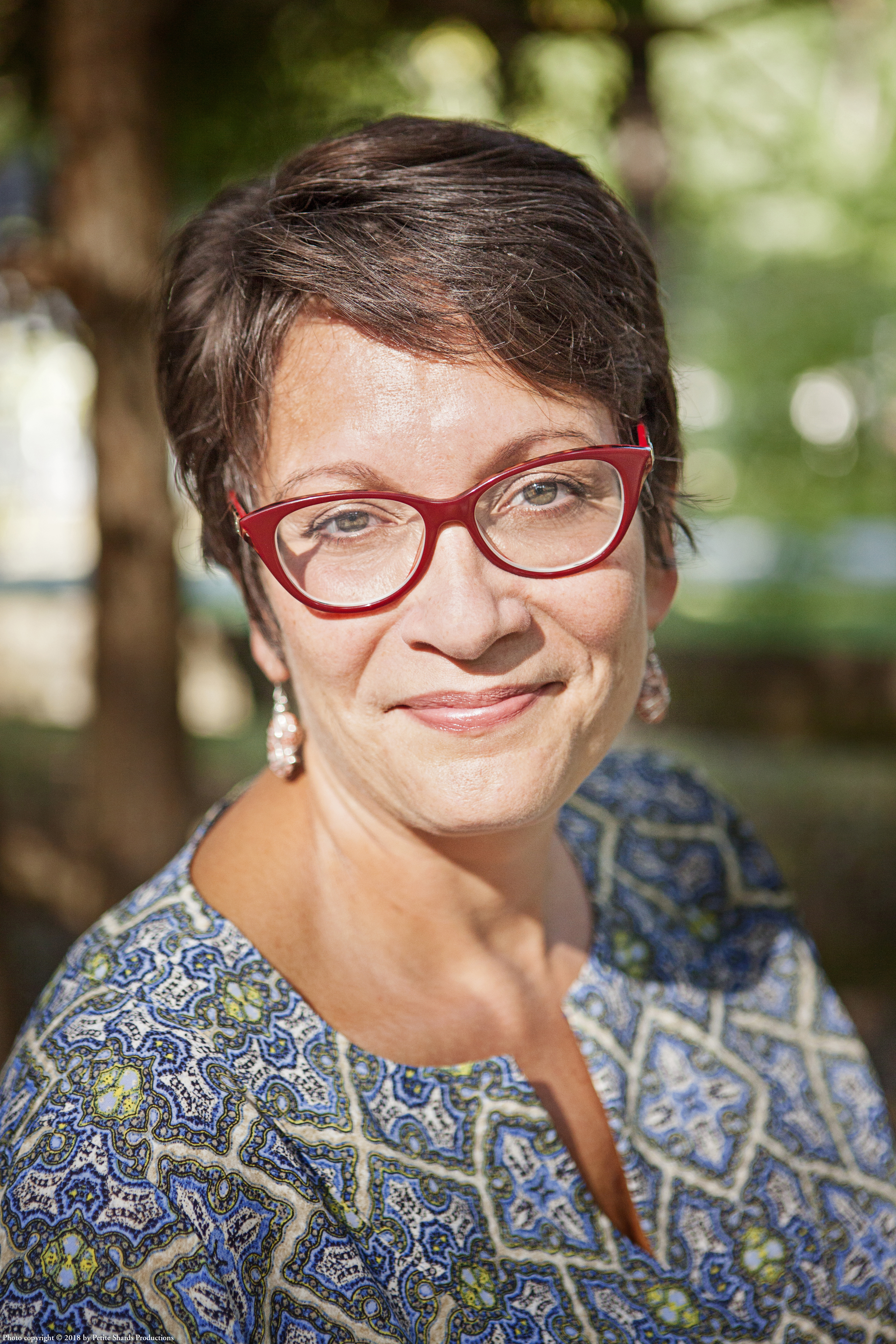 photo: Petite Shards Productions
Meg Medina is an award-winning Cuban-American author who writes picture books as well as middle-grade and young adult fiction. She is the 2014 recipient of the Pura Belpré Author Award and a 2013 Cybils Award winner for her YA novel Yaqui Delgado Wants to Kick Your Ass. She also received the 2012 Ezra Jack Keats New Writer Award for her picture book Tía Isa Wants a Car. When she is not writing, Medina works on community projects that support girls, Latino youth and literacy. Her newest work for middle-grade readers, Merci Suárez Changes Gears, will be published September 11, 2018, by Candlewick. Medina lives with her family in Richmond, Va.
It's no easy task to so beautifully capture the voice of a sixth grader. How did you create Merci's sound?
Writing Merci was about capturing a girl who is starting to ask hard questions, but who isn't yet jaded or broken. I loved inhabiting her for all those months that I was writing. She is everything I love about 11-year-old girls--right before they are swept up in the more harrowing parts of teen life. She's plain-spoken and full of grandiose plans that may or may not be based in reality. She's smart and funny, even when she's not trying. She's also struggling to understand how to navigate the complicated social world of middle school.
How do you know what the everyday life of a contemporary sixth grader looks like?
For me, the essence of a character doesn't actually come from anything I notice about contemporary sixth graders. It comes from what I know about how it felt to be 11 and 12. It's heavily based on memory and on how closely I can access real memories and emotions of that time in my life.
But you're right that a book has to feel that it belongs to its time--that's 2018, not decades in the past. So to help keep things fresh, I study kids when they least expect it. I watch them interact at the grocery store with their parents when they've been dragged there against their will. I notice the dynamics of the loud globs of kids at the bus stop near my house every morning. When I do a school visit, I take in the cat-ear headbands, the chipped nail polish, how they hold their backpacks, how the boys still try to sit together at a table, who falls asleep.... The other thing I notice is how school life looks now, everything from safety drills to technology use and lunch schedules. I register all of it.
Where did you get the idea for Merci's tightknit, emotionally (and literally) close family?
It's really the only way I understand family: rambling, interfering, loving and a mess. For the Suárezes I specifically went to an old memory of my mother's cousins in Florida who lived in three houses side by side. The grandmother, Julia, lived in one. Her daughter, Julita, lived next door and then the granddaughter, Julie, had the last one, as I remember. Over the years they had built paths and additions on the houses so that they were actually connected, like a huge stucco compound. I wanted to capture that sense of how Latinx people experience family in all its crazy abundance.
What spoke to you about having Merci deal with senility and an aging grandparent? Why this particular story now?
Part of it was personal. Around the time that I was writing this book, my own family was struggling. My mother came to live her last year of life with us as she battled cancer--at the same time that we also had my 90-year-old mother-in-law and my 85-year-old tía Isa living with us. The stress of having three elderly ladies in a home with our three teenagers was brutal, to be honest. It was a situation based on our cultural expectations, on love and a sense of responsibility, but it was still very hard.
I picked Alzheimer's for the novel because I'd also had the experience of watching my uncle Diego succumb to its effects. I witnessed my cousin and his family throughout their incredible journey to love and care for Diego, even as he disappeared before our very eyes. It was the nature of change that struck me so profoundly. I came to see that Alzheimer's erases us and our relationships, and the saddest relationships lost are those with the people we love most.
What do you want readers to take away from this book?
Well, this book is both funny and bitterly sad, which is the way life is, I suppose. I want them to laugh deep from the belly at the ridiculous things that happen to Merci at school--because, let's face it, the world of an 11-year-old can be silly. But I want readers to think about change and the role that love and family play in how we face even the hardest changes.
Is there anything else you'd like to tell Shelf Awareness readers?
Only that you never know which of your crazy life experiences will help you write a book. Case in point: I never thought anything useful could come from my teaching days, when I allowed a kid to be plastered for a mask-making project only to learn that we'd forgotten to protect his rather full eyebrows. (Wherever you are, Jeremy Soto, I'm still sorry, and I hope they grew back okay.) The good news? Merci Suarez Changes Gears is better thanks to our disaster. --Siân Gaetano, children's and YA editor, Shelf Awareness