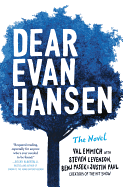 The novelization of Steven Levenson, Benj Pasek and Justin Paul's six-time Tony Award-winning musical Dear Evan Hansen is compelling and deeply emotional. Evan Hansen, through Val Emmich's (The Reminders) skillful interpretation, is a complex, well-developed character whose struggles with depression and anxiety read painfully true.
"My name. That was the last thing I wrote. On another kid's cast. Not quite a goodbye note. But hey, I made my little mark. On a broken limb. Seems about right." Readers familiar with the play will know right away that the first-person account that opens the book isn't our protagonist, Evan Hansen--it's the person whose pain, suffering and eventual suicide make Evan our protagonist.
It's the first day of Evan's senior year and he's writing a letter to himself: "Dear Evan Hansen, Today is going to be an amazing day, and here's why." Dr. Sherman, Evan's therapist, gave the anxious teen this letter-writing assignment to help him "explore" his feelings and, hopefully, to allow him to gain a more positive outlook on life: "Positive outlook yields positive experience," after all. The first line is easy for Evan--it's what Dr. Sherman told him to start with--but the rest of the letter is "tricky." After the opening statement, Evan has to find words to support the concept: he has to "prove why today is going to be an amazing day when all the evidence suggests otherwise." Evan is on medications that help, but on days like today, his anxiety peaks.
His mother's worried but hopeful attempts at connection don't ease his angst. Evan's mother, a "young mom" who is raising him without the help of his emotionally and geographically distant father, works long hours as a nurse while also taking night classes. "You just have to find a way to put yourself out there," she says to Evan before the two leave for work and school, "Why don't you go around today and ask the other kids to sign your cast?" The very idea terrifies Evan, who has been in virtual isolation since he broke his arm falling out of a tree while working as an apprentice park ranger. She hands him a Sharpie, and, unwilling to disappoint his mother (further, he thinks), he takes it.
As Evan fears, the first day of school is not amazing. He isn't suddenly confident, interesting or approachable, and he doesn't make tons of friends to sign his cast. He does, however, have an uncomfortable run-in with "the mysterious creature known as Connor Murphy," a teen with a "school shooter chic" style who also happens to be the brother of Zoe, Evan's crush. Jared, Evan's "family friend" (and all-around douchebag), makes a comment about Connor that gets Evan shoved to the ground. Zoe stumbles upon the scene and apologizes to Evan, calling her brother "a psychopath." Unsurprisingly, Evan stumbles over this surprise interaction with Zoe, which proves to him he is worthless.
Evan goes to the computer lab to finish the letter he started in the morning and, supremely unhappy after his failure of a first day, writes a letter full of despair: "I wish that everything was different. I wish that I was a part of something. I wish that anything I said mattered, to anyone.... would anybody even notice if I disappeared tomorrow?" He prints it out--but Connor grabs it from the machine. The two have an outstandingly awkward interaction in which Connor tries to connect with Evan and signs his cast so they "can both pretend [they] have friends." Then, Connor takes a peek past the first line of the letter--"Dear Evan Hansen"--and sees his sister's name. He gets angry and suspicious, accuses Evan of writing "some creepy sh*t" because he "knew that [Connor] would find it," and stalks off with the letter.
That evening, with the letter still in his pocket, Connor kills himself; Connor's parents think the letter is a suicide note specifically written to Evan. Instead of clearing the air and explaining, Evan pretends he was Connor's secret best friend, convincing himself that he's easing the Murphys' grief by giving them someone to connect with. Evan allows the lie to build, and begins spending time with the family, making up stories about his and Connor's close friendship. When his lies begin to unravel, he and Jared create backdated e-mail "proof" of the relationship that Evan shares with the Murphys. Evan tells himself the lies will give the family some peace, but as he becomes a surrogate son to the devastated parents (and begins to date Zoe), it grows obvious that Evan's life is improving because Connor took his own.
Emmich takes the reader deep into Evan's head as he agonizes over every aspect of his life, each thought exploding into ever more dismal tangents as he beats himself up for not being "confident.... interesting. Easy to talk to. Approachable." His bleak thoughts pile on top of each other, giving a clear vision of how claustrophobic and exhausting it is to live with anxiety and depression. As his lies spiral out of control and Evan becomes ever more unlikable, Emmich's deft touch keeps him relatable and sympathetic. The occasional chapters from beyond the grave allow the reader to get to know Connor, his state of mind (and being) represented with nuance and delicacy. While Dear Evan Hansen originated on the stage, it needs no lights, meticulously designed sets nor choral arrangements to deliver a haunting, powerful exploration of mental and emotional health and the things humans do to cope.