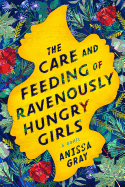 Set in a small western Michigan town, Anissa Gray's tender and absorbing multigenerational drama is centered around three adult siblings from the devoutly Christian Butler family--Althea, Viola and Lillian--each with an impassioned voice of her own in the story. More different than they are alike, the sisters are united by the absence of their deceased mother and a peripatetic father. We get to know the fourth sibling, a middle child named Joe, only through his sisters' eyes.
Alternating among the powerful first-person accounts, Gray gracefully captures the true essence and soul of each sister in relation to her place in the family hierarchy and the influences, religious and otherwise, that inform their characters. The reader's effortless immersion into their emotional lives is a testament to Gray's artful storytelling and her ability to completely inhabit the fictional world she has created.
Althea, the eldest, was 12 years old when her mother died and her father left to become a traveling preacher, putting the younger children in her care. She married her childhood sweetheart, Proctor, and they have twin daughters, Baby Vi and Kim. She and Proctor open a restaurant and general store and soon make a name for themselves as dependable, honest pillars of their small community. But Althea is ambivalent about motherhood and struggles to parent her own children after raising her siblings.
Viola is a Chicago-based therapist with an eating disorder and a flailing relationship. Her precarious hold on a life beyond bulimia is held together with a studious avoidance of her family. Embedded too deeply in the past, Lillian's life is framed by the loss of her parents and her dead ex-husband. The only sibling to receive her father's love and attention, she inherited the Butler childhood home upon his death and this is where she lives.
Gray introduces the sisters in the midst of a family crisis, immediately drawing the reader into their unfolding drama. Althea and Proctor are in prison, convicted on charges of fraud and embezzlement and facing several years behind bars. Everything they once owned, including their riverfront house, is confiscated and their teenage daughters are effectively homeless. How the Butler siblings deal with this misfortune is at the heart of Gray's beautifully rendered family portrait.
Viola and Lillian step in to care for Baby Vi and Kim. It's an uphill battle and, in the case of Kim, a sadly losing proposition. Joe wants to help with the twins, but Viola and Lillian don't trust him. Each sibling, in reacting to the needs of the girls, reveals their own emotional vulnerabilities. Festering resentments bubble to the surface as Althea, Viola, Joe and Lillian are forced to reckon with each other's past behavior: Althea's favoritism toward Viola and Joe and her rejection of Lillian; Viola's escape to college and the distance she keeps; Joe's abuse of Lillian; and Lillian's role as her father's favorite child.
As the reality of Althea and Proctor's long incarceration sinks in, the sisters soon realize that if they want to set a better tone for the next generation, they first have to embark on a process of healing from past hurts. Matters come to a head when Kim runs away. Her eventual reappearance is both an opportunity to reset the family's relationships with each other and the catalyst for improved connections between the twins and their mother.
Drawing on powerful imagery to illustrate the underlying common thread among the sisters, Gray defines them as strong and enduring, forces of nature like the Saint Joseph and the Portage rivers that run through their small town. Reminiscent of George Elliot's The Mill on the Floss, the flowing river imagery defines both the sisters' inner strength and the life forces beyond their control.
Althea, Viola and Lillian are surrounded by a richly drawn cast of female characters, each adding color, depth and often humor to the sisters' story. There's strong and enduring Eva, Viola's estranged partner, whose unwavering support saves Viola from herself. Mercedes is Althea's prison inmate friend, the one who looks out for Althea on the inside and is ultimately responsible for finding and rescuing Kim on the outside. And Nai Nai is a feisty elderly Asian woman who keeps Lillian grounded.
The gnawing hunger that informs Althea, Viola and Lillian's inner lives is at the crux of Gray's thoughtful and dynamic exploration of sibling relationships. Electing to heal by coming together instead of staying away, each character is tied to the difficult circumstances of the present, with the past a meddling guest who refuses to leave until forcefully banished to benign and faded memory. The Care and Feeding of Ravenously Hungry Girls is a powerful debut that deals gently and at the same time fearlessly with the diversity and complexity of family connections. --Shahina Piyarali