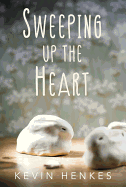 Although readers may know the Caldecott Medalist best for his gifts as a picture book author and illustrator, children's favorite Kevin Henkes (Egg) also creates novels with as much grace and quiet power as his masterfully simple illustrations. In the family drama Sweeping Up the Heart, Henkes charts a tender emotional journey across the divide that opens when grief rewrites the language of each affected heart, bringing the same clear-eyed, warm-spirited view of everyday struggles and triumphs that captured our hearts in his Newbery Honor-winning The Year of Billy Miller.
"Poor Amelia Albright"--12-year-old Amelia has heard that phrase almost every day for as long as she can remember. The words of pity are about a tragedy she can't remember: when she was just two years old, her mother died of cancer. Since then, her "moody, remote" father, Professor Gordon Albright, has spent more time with his work than with Amelia, leaving most of her care to their elderly housekeeper, Mrs. O'Brien, whose "loving watchfulness" is "like a protective cloak." Now, during spring break of her seventh-grade year, Amelia wants to go to the beach in Florida like her classmates, but her father has opted for a nice, quiet time at home--"minus the nice," Amelia complains. Soon the year will turn from 1999 to 2000, and Amelia wonders if this is "when her real life... [will] finally begin."
At least Amelia has the entire week to spend at the local clay studio during her vacation-free vacation. Since her first ceramics class at age six, Amelia has loved sculpting tiny clay animals, filling the house with her creations. This spring break, though, she finds the studio already occupied by Casey Kirkwood-Cole, the owner's 12-year-old nephew. Unsure of the interloper at first, Amelia soon warms to Casey, who loves to draw, has a "thick dark tumble" of curls and wears T-shirts decorated with slogans protesting the dissolution of his parents' troubled marriage. Casey introduces Amelia to his favorite game, imagining silly names and outlandish histories for strangers or the occasional mean-spirited peer. When his imagination settles on a woman who resembles Amelia's deceased mother, Amelia becomes absorbed in a whirlwind of magical thinking, stumbling into surprising truths about her family.
Henkes puts the "lit" in "kid lit," his minimalist prose style evincing the meticulous attention to detail seen in his picture book illustrations. Just as he knows how to use a single stroke of ink to convey surprising depth of meaning, Henkes can coax a bloom of emotion from the simplest and fewest words. The discernible care and deliberation surrounding every paragraph shows how seriously Henkes takes his young audience and how much respect he affords their taste and intelligence. His spare wisps of sentences capture the turbulent waters at the cusp of adolescence, that moment at the end of childhood when independence beckons, tempting and terrifying.
In one instance, Amelia articulates her fear of life as "so big that I don't know what will happen," a phrase at once abstract and completely relatable at any age. Her bravery in longing for the future in the face of uncertainty gives Amelia a heroic quality that beautifully balances out her introspective personality. Like many 12-year-olds, Amelia is still planted deeply enough in the naiveté of childhood to hold the occasional imagined conversation with her favorite plush toy, even as she develops glimmers of adult insight. When she stumbles across the Emily Dickinson poem from which the novel takes its title, bookmarked by Mrs. O'Brien, Amelia begins to understand for the first time that her mother's death may have broken some vital, irreparable part of her father.
As her relationship with her father goes through a watershed moment, Amelia's interactions with her peers reflect the mercurial nature of middle school friendships. At one point, consumed with her own thoughts, Amelia reminds herself, "Casey is real.... Focus on that." She also frets in the back of her mind that her best friend Natalie, abroad with her family, might forget or abandon her, like her former best friend, Lindy. Henkes seamlessly integrates the solace and stability art can bring in times of upheaval, showing Amelia entering a "bubble" of concentration as she makes the first in a series of ceramic rabbits. She also finds comfort in Mrs. O'Brien, who offers unwavering love and wisdom through their touching intergenerational rapport.
For readers ages nine to 12 who love to find meaning between the lines, Amelia's journey of self-discovery provides plenty of gems to mine. Middle school students who struggle with reading will likely also find comfort in the short, easily digestible chapters and the largely unadorned language. However, as Henkes says, "The older I get, the more I love things that are spare," and older readers who appreciate the clean perfection of stripped-down prose will relish this deceptively simple slice of life from the pre-digital age. Resonant and life-affirming, Sweeping Up the Heart serves as a reminder that love and courage don't need an epic setting to show their beauty. --Jaclyn Fulwood