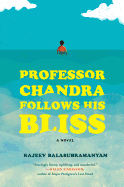 In Rajeev Balasubramanyam's (In Beautiful Disguises) smart, engaging comedy of errors crossed with a charming late-stage coming-of age story, British-Indian Professor P.R. Chandrasekhar is at the top of his professional game. He is the most respected trade economist in the world as well as an esteemed Emeritus Professor of Economics at the University of Cambridge. An academic snob, the professor is unforgiving of those who don't quite measure up to his intellectual standards. He has a big, soft heart and adores his children, but his ego and insufferable need to be right rather than happy alienates those he loves.
The reverence shown to Chandra in his professional world is sorely lacking in his family life--what remains of it, anyway. His long-suffering wife, Jean, left him for an American psychiatrist named Steve, and his three grown offspring keep their distance. Sunny, a narcissist like his father, lives in Hong Kong successfully pursuing a career as a "financial karma" motivational speaker. Disdainful Radha, once the apple of her father's eye, can no longer tolerate her father's smug self-importance and has completely cut off contact with him. And Jasmine, the youngest, who lives with her mother and Steve in Boulder, Colo., has morphed from a sweet, loving child into an angst-ridden, angry high school senior. Even worse, she refuses to cooperate with her education-focused father, a situation Chandra cannot begin to understand.
Professor Chandra Follows His Bliss opens with a calamitous but also hilarious scene: the 69-year-old professor is on the cusp of winning the Nobel Prize in Economics, as predicted by the same pundits who were sure of a Hillary Clinton win in 2016. Alas, the prize goes to someone else, Chandra's dry, sardonic response to the loss is both endearing and a stellar introduction to a curmudgeon the likes of which you've never seen before.
The Nobel Prize disappointment is followed by a health setback, and the workaholic professor is admonished by his doctor to work less and have more fun. A sabbatical is in order. He ventures to California to teach part time at UC Bella Vista, a college town culturally and aesthetically as far removed from Cambridge as could possibly be. Leaving the stuffiness of his exalted university, well suited to his rather stuffy personality, is a bit of a challenge for Chandra, but he likes the weather and the short travel distance to his daughter in Boulder.
Visiting Jasmine also means facing happily remarried Jean in her new life with Steve. Laid back, über-confident Steve is the perfect foil for the jilted and uptight professor. Pompous or not, Chandra is genuine and touching in his desire to connect with Jean and their daughter. Having bombed the SATs, Jasmine starts acting out in bewildering ways. Meanwhile, Steve corners Chandra into spending three days at the famous Big Sur spiritual retreat, the Esalen Institute.
And therein begins the professor's California adventure in earnest. Reluctantly, he attends a spiritual workshop at Esalen that becomes the catalyst for a life-changing inner transformation. The workshop is exactly what Chandra needs--it teaches him tolerance, self-awareness and acceptance of others. He learns to silence the critical voice inside his head. He also begins to enjoy himself, finally understanding his American doctor's advice to "follow his bliss." The professor befriends a fellow Esalen guest, Dolores, who runs the Cove Zen Center, a Colorado monastery, with her husband.
Chandra's path to self-enlightenment is strewn with obstacles, including his ego, Jasmine's academic derailment and years of negative conditioning by his own unforgiving father. Balasubramanyam gently teases the self-important Chandra but also endows him with the emotional and spiritual tools needed to repair damaged family bonds.
Accompanying Chandra as he sets about untangling the knots in his personal life is both uplifting and entertaining. The language of spiritual healing comes naturally to Balasubramanyam, and he deploys it to great effect in this superbly relevant story for our times.
Back in Boulder, Jasmine turns into every parent's worst nightmare and needs serious intervention. Thanks to his friendship with Dolores, the professor arranges for his daughter to stay at the Cove Zen Center. As Christmas approaches, Chandra invites Jean, Steve and Sunny to join him at the monastery, intent as he is on securing the family's support for Jasmine during the holiday season. As Professor Chandra Follows His Bliss draws to a rewarding conclusion, the now spiritually refined professor finds himself happily surrounded by those he once drove away.
Balasubramanyam weaves weighty topics such as familial estrangement and teenage drug use into his tender, enchanting novel with a nimble but substantial touch. The end result is strong on optimism with a vital message for mankind: one must be willing to change and look inward if one wants to improve personal relationships and help those we love. --Shahina Piyarali