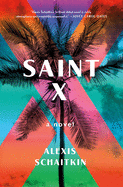 In this riveting debut, novelist Alexis Schaitkin delves into the ripple effects of a tragedy on two individuals from seemingly polar-opposite walks of life. Claire Thomas is seven when her 18-year-old sister, Alison, goes missing during a family trip to the island of Saint X in the Caribbean. After Alison's body is discovered, an investigation results in the arrest of two resort employees with whom she was last seen: Edwin Hastie and Clive Richardson. But with only circumstantial evidence, the men are soon released, and Alison's death goes unsolved.
For the Thomas family, this event carved a gaping hole in their souls, although they were left with no choice but to move on with their lives. Claire explains that, in the subsequent years, they "lived on the surface, skated figure eights over a frozen sea."
Twenty years after the tragic incident, Claire's and Clive's paths cross, tearing open old wounds that never properly healed. Thanks to the passage of time, Claire doesn't recognize the former resort employee, when she steps into his taxi in New York City. But when she sees his license and name displayed on the Plexiglas partition of the cab, the frozen sea cracks, and she begins drowning in her personal obsession to learn the truth about who her sister was, and what happened that fateful night on Saint X.
Schaitkin vividly paints the emotional struggle Claire experiences after leaving the island. Her identity, her relationship with her parents, the expectations of friends are all defined by her sister's death--a sister she barely knew. And once Alison is gone, she becomes an ideal: "In my parents' version, Alison was buffed like a piece of sea glass, her edges and points worn away over time and yielding to a pleasing smoothness." But Claire knows Alison had rough edges, and as she grows closer to Clive, she becomes increasingly caught up in her determination to find the truth.
The author weaves Clive's story into Claire's. While the contrast in their lives is stark--Claire lives a privileged life, while Clive is lucky to scrape by--they are both haunted by the death of Alison Thomas. Clive loses his home and his family because of the fallout from the investigation. Daily he's reminded that he's miserable in New York City because of a confident teenage girl who caught his best friend's attention. The differing points of view remind readers that both are unreliable narrators; readers must parse for themselves what the truth is, if it actually can be found.
While considering the role of differing viewpoints, Claire ponders, "Stories lead us to the truth and they lead us astray, and how are we to know the difference?" Claire mulls this over as she puts together the stories she's researched in an effort to find the truth about her sister. To muddy the water a bit more, Schaitkin also includes short one- to two-page narratives from supporting cast members: the woman who found Alison's body, another guest at the resort, Alison's English teacher.
While Saint X on its surface presents a mystery, the focus is on the dynamics of human relationships--and the result is an engrossing tale about family, about privilege and about finding one's way in the labyrinth of life. --Jen Forbus