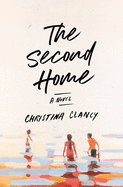 The Gordon family has spent countless summers in their family home in Wellfleet, on Cape Cod, where they can relax and retreat from their year-round lives in Milwaukee. But the events of one summer, when their daughters are teenagers, will have far-reaching effects for the whole family. In her debut novel, The Second Home, Christina Clancy explores the complicated dynamic between two sisters, the consequences of impulsive decisions and the elusive meaning of home itself.
Clancy's narrative begins in early 2016, when Ann, the oldest Gordon daughter, is preparing to sell the Wellfleet house after her parents' death in a car accident. (Ann's younger sister, Poppy, an itinerant surfer and yoga teacher, is--reluctantly--back in Milwaukee trying to prepare her family's other house for sale.) As Ann revisits the Cape Cod house for the first time in years, she flashes back to one summer nearly two decades ago, when her family came to the Cape as usual but brought Michael, a recently orphaned student of her father's whom the Gordons ended up adopting. Although it was Ann's idea to have her family adopt Michael, she wasn't prepared to deal with her tangled feelings about him--definitely more than sisterly--while having him as part of her family. Poppy adored Michael, but his sudden presence in her family made her feel a bit left out, so she turned to surfing and drugs as both a distraction and a new community.
The distance between the three teenagers, each struggling to find their own way, only grew as the summer went on. Ann, babysitting for the two sons of a wealthy couple from Boston, longed for the seemingly effortless, comfortable life on display at their house. She was also flattered and confused by the attentions of Anthony, the boys' father. Michael, still grieving the loss of his mother and struggling to fit into a loving but entirely different family, found distraction in his part-time landscaping job. And Poppy, disinclined to think about things too deeply, nevertheless was sensitive to the seismic shifts in her family's life. All of them were blindsided by the outcome of that summer, which eventually led to Ann standing in the Wellfleet house on a February day in 2016, shivering, with no idea where Michael is or how to bridge the emotional gap between herself and Poppy. Clancy intertwines the two time periods so the reader can guess where some of the plotlines are going, but she doesn't give away either the full sequence of events or the emotional impact of them on her characters.
Clancy's love for Cape Cod comes through in her depiction of the house, located just off Route 6 and layered with family memories and stories. The adult Ann, to her own surprise, realizes that she has more pride and emotional investment in the house than she thought, and even Poppy, the traveler, cherishes her memories of childhood summers there. Home is a much more difficult concept for Michael to reckon with, but the choices he makes about where and how to build his life as an adult also speak to the power of the Cape house. All three siblings feel the pull back to Wellfleet, even (or especially) in the wake of tragedy.
Like the house itself, Ed and Connie, the Gordon parents, often seem to be simply part of the background of their children's stories. But both are interesting characters in their own right: Ed the affable, slightly hippie-ish teacher, beloved by his students, is also happy to shrug off his public persona for a few weeks on the Cape each year. Connie, relentlessly social and capable in Milwaukee, mostly spends her summer vacations reading, though she (sometimes) notices more than her children give her credit for.
As Ann and Poppy try to sift through the logistical and emotional clutter of selling the Cape house, they are both forced to reckon with the events of that long-ago summer. In Ann's case, this means facing up to her own decisions and also letting go of the weight of several events that were out of her control. For Poppy, it means finally asking the right questions to get to the bottom of what really made Michael disappear, and also asking herself whether the globe-trotting life she's chosen is the one she wants. Both sisters--and eventually Michael--have to deal not only with the legal challenges of their shared inheritance, but the personal challenges posed by the memories that have affected all of them in profound ways.
Warm, absorbing and thought-provoking, Clancy's narrative nudges her characters to look honestly at the disparities between memory, truth and reality. Along the way, she leaves readers with a craving for lobster rolls, the feel of sand between their toes, and perhaps even a sharp longing for the homes they've loved and lost. --Katie Noah Gibson