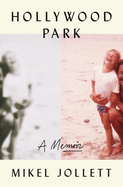 "We were never young. We were just too afraid of ourselves. No one told us who we were or what we were or where all our parents went." Mikel Jollett, frontman for Airborne Toxic Event, mines the cratered landscape of trauma in Hollywood Park, a raw, revealing, expansive account of a life unmoored.
Jollett grew up fast by necessity. Born into the infamous Synanon cult, he spent his first few years essentially an orphan. Children were separated from their parents and raised as "children of the universe." A rotating cast supervised the children, with infrequent, if any, parental visits. Synanon began as a drug-treatment facility-cum-commune--Jollett's parents joined in part to treat his father's heroin addiction--but the group devolved into disorder and tyranny. Jollett's parents split up while there and, as the environment became more chaotic and violent, Jollett's mother arranged her escape with her two young sons.
Throughout, Jollett is adept and flexible with language, writing in present tense. After a break-in at their apartment and a violent attack right in front of the young Jollett, the family flees to Oregon. There, they eke out a life on the fringes. His mother works at a state mental hospital and the boys adjust to their new life in the rainy northwest. Often on government assistance, the family raises rabbits for food. Hollywood Park delves into the fraught consequences of his mother's parenting--yet there is much thoughtful reflection and understanding in Jollett's approach, in particular toward his mother's mental illness. He writes convincingly, and poignantly, that his mother can't help her behavior.
Jollett is sharp. In first grade, an aptitude test suggests he skip to third or fourth, but his mother decides it's better if he remains with kids his age. As a result, school bores him and he's a perpetual misfit. He is happiest during summers, which he spends in Southern California with his father, and he eventually moves in permanently with his dad. One day in high school, a girl in his English class raises her hand and says something smart. Jollett is transfixed: "Something turned in me, to see this pretty girl taking the book so seriously. She put her hand down and the discussion moved on and for the first time in my life I did homework that night." He strikes up a relationship with the girl--the first of a variety of romantic relationships he explores in Hollywood Park--and along the way also falls in love with reading, and learning for learning's sake.
As he grows increasingly aware of how others perceive his upbringing, Jollett struggles with conflicting feelings about his family. He wrestles with just how much he loves his blue-collar father, but also with how much he doesn't want to end up like him in certain ways. He also has ambition. And talent. While family around him continues to battle addiction and mental health problems, he receives a scholarship to Stanford University. It's tough, though, as ever, to fit in. Recalling orientation, he writes, "I can't help but wonder what I have in common with these kids, these East Coast prep school kids at White Lunch with their inside jokes and Gamecock hats. What are we supposed to talk about? Mayonnaise? The Gap?" Music helps. Jollett sees at least 100 shows just while he's at Stanford, and begins playing himself.
The evolution of Jollett's narrative voice in Hollywood Park mirrors the evolution of his ways of coping with his upbringing. It's childlike in the beginning, growing more contemplative, measured and empathetic by the end, even as he's still trying to understand his place in the world. Now a father himself, he ponders big questions: What does it mean to be a man? A son? A brother? A father?
Jollett uses the frameworks he has gleaned through therapy to grapple with the answers. His reckonings with forgiveness, recovery and loyalty make for a nuanced, beautiful portrait of ways to think about life and how to treat others. And it is fascinating to be along on the ride with him. While Hollywood Park is long, it doesn't feel self-indulgent. As he describes founding the Airborne Toxic Event and its ascent to success, what could be simply exciting stories of the studio and the road instead come through the filter of his complex family life. Jollett exhibits empathy and exudes humility; it's as if, even after all of his successes, he still finds himself in disbelief that people want to be around him or value what he has to offer.
His memoir is exquisitely beautiful and exquisitely painful; it lingers in the mind like a melody. (Notably, his band is releasing alongside it an album of the same title.) When Jollett as a boy slaughters his family's rabbits--to minimize their suffering he must knock them out before killing them--he queasily imagines hitting them as a game, instead of what he deems "the thunderclap of life as it ends." Hollywood Park is packed with moments and phrases like this; Jollett's wonder at it all is positively searing. He captures the thunderclaps, their rolling echoes, the whole beautiful storm--and makes it sing. --Katie Weed