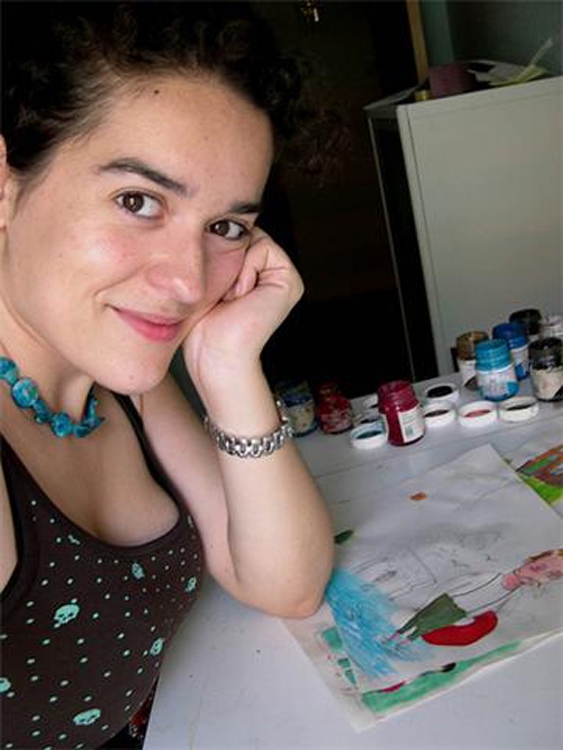 Sonia Sánchez is the illustrator of Here I Am, written by Patricia Hee Kim, which was nominated for a Will Eisner Comic Industry Award for interior art. She lives with her husband, son and a sleepyhead cat in Barcelona, Spain. Her new book, Evelyn del Rey Is Moving Away, written by Meg Medina, will be published by Candlewick on September 8, 2020.
How closely did you and Meg work on character design?
Before I began sketching, they explained how they would prefer to see the characters realized. I tried to stay true to the author's ideas. I went through many rounds of principle character sketches, eliminating some and polishing others to get it just right.
What made you decide to give Daniela her signature glasses?
I want the characters to look realistic, and many people wear glasses. I wear glasses as well. I think that when children see these details, it helps them to identify with the characters.
Your patterns and the ways you combine them in your digital art are fantastic.
I always work with patterns and textures, perhaps because as a child I was taught how to paint with oil pastels, and you have to work it with layers and transparencies. Working with the computer, I don't want to lose the human touch. I can create richer backgrounds with my own brushes and textures this way.
What was on your mind as you created such deeply emotional illustrations?
I think we all have had a best friend or a soulmate in whom we have confided and had the absolute best of times. As time goes by and we grow older, things happen, like with Evelyn and Daniela. We move to a different place, change schools. It can break your heart.
This story reminded me of my childhood friends with whom I had such a great time. I also wanted to add the idea of pen pals to the story. It is something that I love, a very personal and authentic way of connecting. I'm afraid that nowadays, with so many digital options, children might lose this habit.
Why did you choose to use an autumnal setting?
Summer is all about playful, joyful moments. With the autumn comes a change in their relationship. I wanted to express that although Evelyn is moving away, there is hope that the friendship will remain. --Jaclyn Fulwood