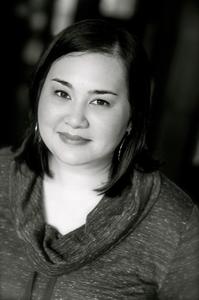 (Susan Doupe Photography)
When Emiko Jean isn't writing, she's reading. Before she became a writer, she was an entomologist, a candlemaker, a florist and, most recently, a teacher. She is the author of Empress of All Seasons and We'll Never Be Apart. In her third novel, Tokyo Ever After (Flatiron Books, May 25, 2021), a California teen turns out to be a Japanese princess.
You're quite the literary chameleon--your first book was a psychological thriller, your second a historical Japanese fantasy and now this effervescent contemporary romance with a timeless "I'm really a princess" trope. What's the genesis here?
I have genre hopped, haven't I? But when you look at my work, there is a build there. Most deal with underrepresentation. I think Tokyo Ever After was a natural genesis. We just don't have a lot of Asian princesses, period. And growing up, I never saw myself represented in princess media. I think Tokyo Ever After felt really needed. When the concept came to me, it made a lot of sense that a Japanese princess YA book should exist in the world. I grew up in a pretty big Japanese community but didn't know until later in my life that Japan actually still had a royal family. When I learned that, it instantly made me think of The Princess Diaries (a movie I loved as a teen) and I wondered how that might look cast in Japan.
Did you have to think twice about fictionalizing an existing family/monarchy/history?
Yes. I knew about the royal family's role in WWII but I didn't realize they had continued with the monarchy until later in my life. I had to think carefully about what to put on the page, what to and how to recognize certain historical events and in what ways I wanted to represent them, and how this fictionalized monarchy responded to these events. In many ways, it was the same as how the current royal family rebuilt after the war. I did feel a heaviness, a pressure to represent that part of history, while keeping the novel fun and current.
How did you do the research? Do you speak/read Japanese? Any major surprises?
I don't speak any Japanese, other than the phrases my father yelled at me when I was young. (Ha!) I did a ton of research from royal biographies, actual memoirs, big historical books and some generic royal romances (my favorite!). One of the big surprises I wrestled with was the complex naming systems of the royal family, who are given very specific names and honorifics. I pulled in some friends from Japan with the help of my cousin who has a big network over there. They read drafts of the novel and helped with my translations.
Tokyo Ever After got you a new publisher, new imprint, new editor--and a spectacular preempt deal that made publishing news. What's that experience been like? What was it about this manuscript, do you think, that made the industry pay such attention?
It's been amazing. And also sort of surreal, much like a dream. But it has mostly been business as usual, revising Tokyo Ever After and working on the second book. I think Tokyo Ever After was very timely in that the industry has been looking for #OwnVoices novels with new perspectives. That it had such strong comps, The Princess Diaries and Crazy Rich Asians, made it so publishers understood the concept right away. I think it's also a fun book, and being whisked away to another "world" is really attractive. Royal stories and that peek behind the veil have always been popular.
Tokyo Ever After sure seems ready for a close-up: Has Hollywood come calling? Who might you choose for your dream cast?
The book has been optioned and there have been discussions. I wish I could give more details! Dream cast? I don't know, it's one of those things I try not to think about. I'm suspicious and afraid of getting my hopes up! But I'd love to see more Asians on screen, period.
I've heard a sequel is already in the works. Might we get a sneak peek?
I don't know if I can say too much about the plot of the second book! There will be more romance, more kissing... maybe some heartbreak. And definitely more insights into the royal family's customs, maybe even a royal wedding! Shoot, I've probably said too much!
The #OwnVoices movement encourages and values authenticity over appropriation. At some point, did you make a conscious decision in your writing that you would showcase your heritage?
I did. My first book, We'll Never Be Apart, had a white main character and that was purposeful. I didn't think it would be published using a Japanese character. But after that came out and the #OwnVoices movement began to gain traction, I decided to go for it and write a Japanese fantasy--which was like coming home. Being able to explore my heritage (in a magical way) was an incredibly enriching experience. And I don't think I would have been prepared to write Tokyo Ever After without it. I learned Japanese history first, then came a Japanese contemporary novel. From now on, I am very committed to writing Japanese American characters in my novels, showcasing them in all walks of life.
Did you ever have "I'm really a princess" fantasies yourself?
When I think of my younger self, it's kind of complicated. I did entertain the idea but I didn't let myself be too enthralled with [such fantasies]. Again, growing up and not seeing my skin, hair, eye color in literature or on film really closed that world off to me. So maybe I did wish to be a princess but never really considered it a possibility, or more that I felt ashamed by that desire to be a part of a world that was closed off.
With Tokyo Ever After hitting shelves in May, so many girls like us can dream, too!
Yes! Exactly. This is truly a book of my heart. And if you strip down the comps, Princess Diaries/Crazy Rich Asians, and the big publishing deal, it's really about a girl searching for where she belongs. It mirrors so much of my personal journey. I hope that's what readers will identify with. Every girl should be able to/have the right to dream BIG! --Terry Hong