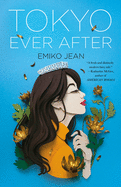 After finding success with a psychological thriller, then a historical fantasy, Emiko Jean turns to contemporary romance with absolutely delightful aplomb. While the "I'm really a princess" trope is an enduringly popular narrative theme, Jean's effervescent third novel, Tokyo Ever After, is a fresh, funny, emotive, inspiring and empowering #OwnVoices triumph.
Izumi Tanaka is an 18-year-old senior at Mount Shasta High School in a one-stoplight California town mostly known as a tourist gateway to summer hiking and winter skiing. She's one-quarter of the "Asian Girl Gang--AGG, for short," which includes her three pan-Asian BFFs: "In a town strung together with tie-dyes and confederate flags, one cannot afford to discriminate." She's been raised by her single mother, Hanako, a biology professor, who adorably calls her "Zoom Zoom." Izumi prefers Izzy among friends, but only because by third grade, her name had been "butchered enough" for her to want to "simplify" it.
Izzy knew little about her genesis, except the few details Hanako reluctantly revealed: that she was allegedly the result of a one-night stand with a don't-remember-his-name visiting Japanese student during Hanako's final year at Harvard. "But not a mistake... Never a mistake," Izzy was always assured. Growing up, Izzy "thought lots about [her] father." As a child, she "wished he was white," that both her parents were white. Her sobering realization as to why came early: because "white was beautiful... the color of my dolls and the models and families I saw on TV." She thought that the shortening of her name, "a paler skin color and a rounder eye-shape would have made [her] life so much easier, the world so much more accessible." For too much of her life, she has believed "I am not enough."
And then one spring afternoon, while Izzy is avoiding homework by rifling through Hanako's makeup (again), her friend Noora happens upon a never-before-noticed book on Hanako's nightstand, Rare Orchids of North America. The inscription, revealing unmistakable adoration and love, ends with "Yours, Makoto 'Mak'/ 2003"--the year of Izzy's birth. Even just saying "This could be my father" feels taboo to Izzy, but by noon the next day, Noora has remarkably sleuthed the truth: Izzy's "a dead ringer" for Makotonomiya Toshihito. That is, Japan's Imperial Highness Crown Prince Toshihito, the (still-unmarried) heir to the world's oldest monarchy. Once upon a time, he was indeed her mother's secret Harvard lover, but sharing an intense affair rather than a meaningless fling was still not enough for Hanako to disclose their progeny. Until now.
Suddenly, Izzy is now Her Imperial Highness Princess Izumi, and she's Tokyo-bound (in a first-class airline suite!) to meet a father she could never have imagined--not to mention her grandparents, the venerated Emperor and Empress of Japan. After growing up with no family on her mother's side, Izzy now has aunts, uncles, cousins and other relatives--some who welcome her and some who won't. Beyond the nobility, what's with that imperial guard who hasn't left her side since their first meeting at San Francisco airport? Does he really need to be so judgy and impatient? And, well, "so good-looking it's borderline offensive?"
While Izzy is learning to navigate steep linguistic, cultural and regal learning curves, the public spotlight never dims. "Women royals are especially scrutinized," Hanako tried to warn her. "Everything is done under a magnifying glass." Quickly dubbed "The Lost Butterfly" by the press, the very discovery of Izzy's existence has been declared "the imperial scandal of the century." The tabloids aren't wrong: "How will this girl from small-town America adapt to the glitz and glamour of the imperial family?" they wonder. "Is she ready for the royal treatment?" After 18 years of living what she's now convinced was a lie, Izzy has mere weeks to figure out how, where and if she belongs with her new family in this absurdly beyond-privileged life. And, most important of all, will she ever feel comfortable in her thoroughly unexpected, rather overwhelming, new identity?
With savvy charm, Jean enhances an already entertaining fairytale with pointedly affecting depth. Izzy is no starry-eyed princess-in-the-making expecting a magical transformation on the other side of the world. Even as a fourth-generation Japanese American whose maternal family emigrated West almost a century ago, Izzy has never felt American enough. Her seventh-grade crush dissed her with "Sorry, I just don't find Asian chicks attractive." But even though she's paternally connected to the other side of the world, no one--least of all herself--considers her Japanese... yet.
In the midst of navigating family politics, falling--reluctantly, cautiously, then utterly--in first true love turns out to be just the right distraction. Guided by Jean's dual cultural fluency, Izzy's journey toward self-awareness and self-acceptance will be as much, if not more, essential to her happily-ever-after. To get there, she'll need to challenge assumptions, upend expectations and break a few centuries-old rules to become her own hero on her own terms. With hints of a Harry-and-Meghan sensibility, Tokyo Ever After is as much fun as American Royals--and Izumi's convincing brand of rebellion might be exactly what this ancient hierarchy needs for the modern age. --Terry Hong