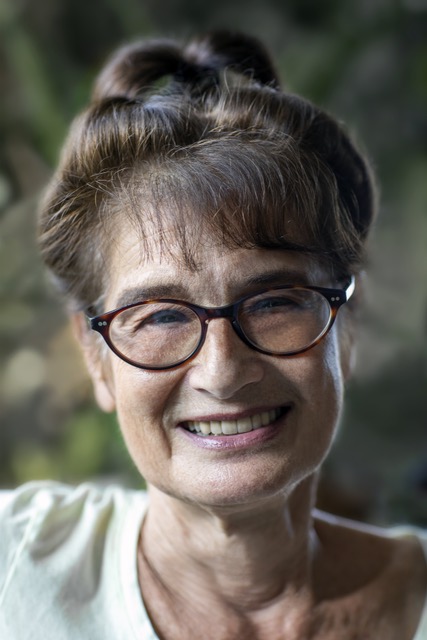 (photo: Shari Diamond)
Joan Silber's Secrets of Happiness (Counterpoint, $27) arrives in bookstores May 4, 2021, four years after her triumphant Improvement, winner of the PEN/Faulkner and the National Book Critics awards for fiction. Her ninth book of fiction, Secrets of Happiness surveys the connections between disparate lives as a succession of (mostly) New Yorkers lay bare the stories of how their lives became what they are. A New Yorker herself, Silber teaches in the Warren Wilson MFA Program.
As I read this very New York novel, I kept thinking of how we sometimes overhear someone's story as they disclose it. What was the impetus for your technique of different voices revealing personal history?
You are totally right in assuming I love to eavesdrop. For the past five books I've been writing in this form of different voices telling their personal histories, and I feel that I've done my best work in this form. It began with the idea of having a minor character from one part narrate the next, and this has allowed me to work on a very intimate scale while moving onto a bigger canvas. So, in Secrets of Happiness, there's the discovery that a father has a whole other, hidden family, and in the next chapter we're in the voice of a son from that family.
I love your idea that this is a particularly urban form. I generally explain it by quoting my mother, who was fond of saying, "You're not the only pebble on the beach" (a moral point I appreciate much more now than I did then). Your comment makes me feel the ways it is also linked to my utterly being a city person and a New York loyalist. I am addicted to the sense of other lives going on intensely around me.
Key to the texture of your characters' lives is their connections to everyone else, even when they can't see the connections themselves. Is that what you've noticed in life outside fiction, as well?
I first started making these connections just as a way to expand the work, and then I began to see how they did indeed reflect my sense of how things work. So now, when friends come upon the surprise reappearance of anything from the past, they'll say, "It's like something you wrote." Buddhism likes to posit that we were all each other's mothers and fathers and children in prior lives, a claim that appeals to me.
Dickens looms over the novel, in its social mindedness, its surprising connections among its cast, and especially in the way that your characters face issues of money and inheritance. (And your first novel, of course, shares the name of a magazine he edited, Household Words.) How does his work inform your thinking about what a novel is and can be?
It's true I stole the name of his magazine for the title of my first novel. One thing I love about his books is the way he gets the inner slogans that people live by, the phrases they keep saying to themselves. And when I was working on this novel, I suddenly saw how a character cheated out of an inheritance was like something out of Dickens, and once the garment industry crept into the edges of the story, its factories were all too close to those in his work. I wouldn't have said he's been someone I used as a model, but now that you mention it, I suppose my letting readers discover that the lover of someone's brother's boyfriend is actually a person we know from three chapters before may be something I first followed in Dickens.
His one really well-formed book is Great Expectations, which I re-read as my escape after the election of 2016. It's a novel fully aware of evil and the vices of ambition, and yet it took me elsewhere. As it happened, soon after, I was a volunteer teacher of English in Laos for a month. One of my students, a teenage novice Buddhist monk in Luang Prabang, asked if he could write a story about a book he was reading. I said sure, and he wrote a version of the scene when Pip brings food to the prisoner on the marsh! I couldn't believe it--we were both thrilled. And I felt that the novel's points about money and class and loyalties made perfect sense to him.
Secrets of Happiness suggests that the plotty contrivances at the end of a book like David Copperfield, for example, aren't much more unlikely than the ways our actual lives often work out.
I do think that every day we are faced by things you could not make up--life is in fact quite corny in its use of coincidence and recurrence.
Much of the novel concerns travel, with your characters crossing the globe in search of happiness or connection or opportunity or a sense of self. Is travel transformative, or does it reveal who these people already are?
I am a great believer in travel. I first started traveling to Asia 20 years ago, and that's been important to me. It's different for different people. In Secrets of Happiness, Abby tells her son, Ethan, that travel will take him out of himself, but she notes that it didn't have that effect on her erring husband. So it doesn't confer automatic benefits--you're quite right. My favorite traveler in the novel is probably Bud, who ends up working in Phnom Penh in his later years--he gets to be "gazing at the lights of settlement on an ancient waterway, pleased at the form of my days."
Your depiction of New York City is vivid and enticing--and now also possibly historic. Do you believe the city will soon feel like it does in the book again?
Of course I believe in New York's resilience. My own neighborhood, the Lower East Side, has sprouted now-legal sidewalk cafes, mostly jerry-built out of plywood and plastic. In late December I drank a Bellini while wearing earmuffs. But nothing will be quite the same, either. --Alan Scherstuhl