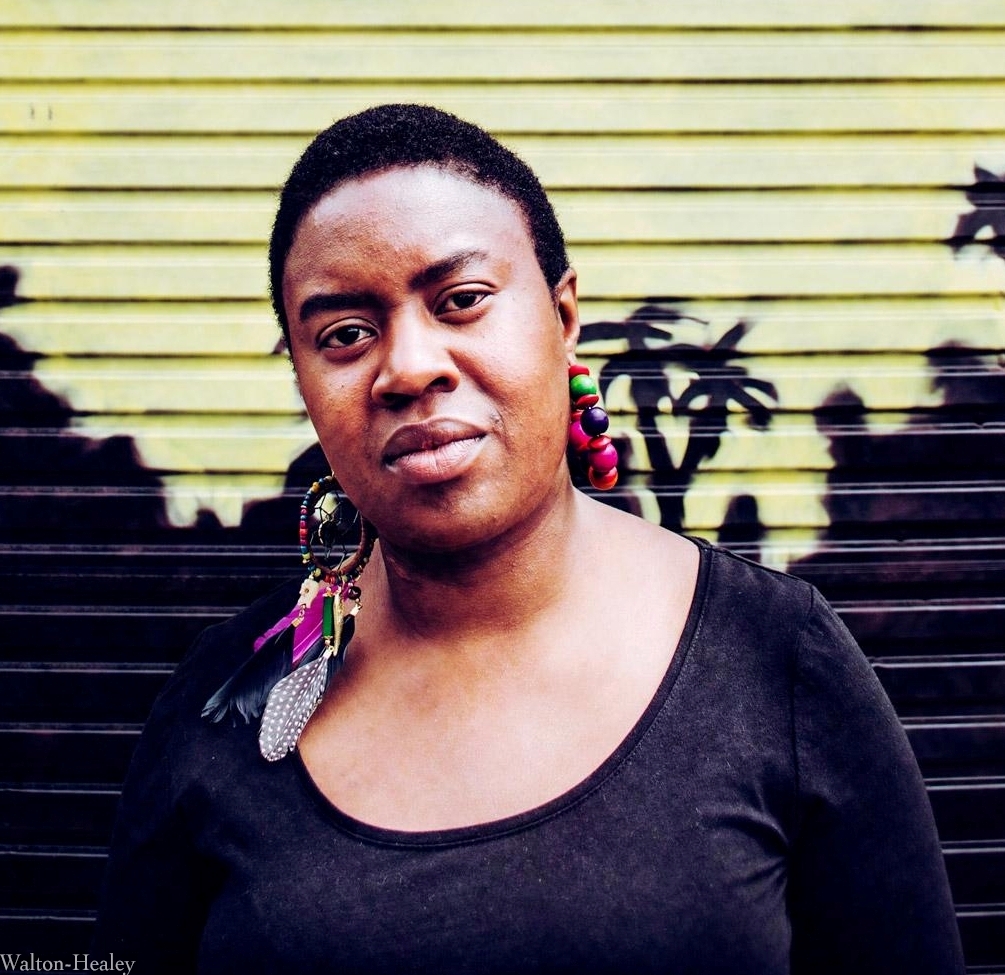 (photo: Nicholas Walton-Healey)
Maxine Beneba Clarke is an Afro-Caribbean Australian author/artist who creates across genres and audiences: adult fiction, nonfiction, memoir and children's books. Her award-winning titles are steadily migrating to the United States, including her second picture book with Candlewick Press, When We Say Black Lives Matter (available September 14, 2021). [This conversation took place before We Need Diverse Books announced that it was discontinuing its use of the term "Own Voices," a move that many in publishing have since also adopted.]
Black Lives Matter began in the U.S. after the acquittal of George Zimmerman in the shooting death of Trayvon Martin in 2013. In 2020, George Floyd's murder ignited BLM protests around the world. As an Australian, how did you choose "Black Lives Matter" as the refrain of your newest book?
A few years ago, the BLM movement was awarded the Sydney Peace Prize. I was asked to interview Patrisse Cullors, one of the founders of U.S. BLM, and Rodney Diverlus, one of the founders of BLM Canada, at Sydney Town Hall for the award ceremony. What struck me was the universal applicability of the term BLM. In Australia, BLM refers first and foremost to Aboriginal Australia, and the fact that we exist on what is essentially Black stolen land. At this event, there were people from my background (African diaspora) as well as Indigenous Black Australians, and we all came to this term with our own histories and truths. So I wanted to try and create a picture book that could essentially exist in any community but might mean different things depending on where it was read, and using this term seemed to be a really powerful way of doing that.
The U.S. and Australia have similarly problematic BIPOC histories. As an Australian of Afro-Caribbean descent, do you feel you "belong"? Is your identity something that's challenged in your home country?
As a child, growing up in Australia, it was rare to see other locals of African descent, let alone Afro-Caribbean descent. My parents migrated here from England in 1976, having both grown up there. I was always asked, "Where do you come from?" even though I was born in Sydney and haven't lived anywhere else. I think this contributed to a sense of unbelonging, but to me, I am Australian of Afro-Caribbean descent. I think that identity is challenged less now than it was several decades ago, but there are still times when that's questioned.
As a mother, do you imagine your children as your ideal audience? Do you have a specific reader in mind when you're writing?
I love writing for children. I do write books for adults, as well, but in so many ways, as adults we are so close-minded. I sometimes feel like the adults who really might need to read my work in terms of their ideologies would never pick up a book like mine. With kids, it's different. They're willing to go up a beanstalk or ride a broomstick, so empathizing with people who might have different experiences is just another journey they can go on. But I also think of the parents. I try to create multi-layered kids' books that adults will also enjoy in some way.
Your first picture book, The Patchwork Bike, began as a story in Foreign Soil, your collection for adults. Did When We Say Black Lives Matter also have previous incarnations?
Yes, that first picture book had roots in a story, "David," in my first published fiction book. Interestingly, the story in The Patchwork Bike was primarily about a family of Black kids and a bike made of junk--kind of a comment on poverty and imagination. But the illustrator, Vietnamese Australian street artist Van Thanh Rudd, overlaid it with a Black Lives Matter theme: the numberplate (license plate in the U.S.) on the bike is BLM, and there's iconography of kids dancing on top of an abandoned police car. That was something that I thought would never be cleared to appear in a picture book (particularly in Australia), so in a way, I think Van empowered the idea that it was the right time to tackle things like this in the picture book medium.
When We Say Black Lives Matter was shortlisted for an Australian Book Industry Award for Best Picture Book. Congratulations! Do you feel Australia's publishing industry is genuinely welcoming of diverse voices?
Thanks! It was a real surprise to be nominated for this book. And the winning book, Our Home, Our Heartbeat, was by an Aboriginal author and two Aboriginal illustrators. It was such a win for diversity in kids' books. It's a very recent thing, this embracing of diversity in Australian books. When I was growing up, the only picture books we could get hold of featuring non-white kids in Australia were those that were sent from relatives overseas.
You've had experience working with both Australian and U.S. publishers. Is #OwnVoices as significant there as it's become here? Have you noticed major differences? What about differences in your audiences from both countries?
#OwnVoices is definitely a conversation that seems to be happening in the U.S. and Australia in tandem. I think the conversation in Australia has been slower, but it's happening, and the global connection of the world via technology and social media means that all those conversations are tapping into each other, which is great. My audience in Australia is probably similar to my U.S. audience, although there is a higher Black population in the U.S. In Australia, I sometimes do events where most of the audience is Anglo Australian. That's a good thing, though, as long as my work is also read by diverse readers and accessible to them. I think with the kind of conversations I'm wanting to have with readers, you have to take as many people along with you as possible. I also think there can be the dismissal that "Black books are for Black kids," whereas in my opinion, all kids and adults should be reading as diversely as possible.
You write across genres--adult fiction, nonfiction, memoir, children's books. How do you approach such different projects? What are you writing next?
Poetry is always my starting point for any kind of writing. All my picture books start out as poems and, in my memoir [The Hate Race], there are poetic refrains peppered throughout. But poetry sells less in Australia than in the U.S. or U.K.; people just don't seem to be interested. In a way, I feel like a lot of my work is trying to disguise poetry in other forms, so people don't realize they're consuming it!
I'm working on a project currently that I can't announce because it's yet to be pitched, but for the very first time, I'm illustrating the text of another writer whose work I absolutely love and respect, which is very new because I never envisaged making images for someone else's words! --Terry Hong