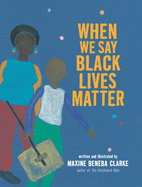 "Little one," two Black parents address the baby in their arms, "when we say Black Lives Matter, we're saying Black people are wonderful-strong." Award-winning Australian author/illustrator Maxine Beneba Clarke's opening sentence visually accentuates the phrase "wonderful-strong," distinguishing the lettering with yellow-orange color and gradually increasing font size. Beneba Clarke's intention feels immediately clear, and her gorgeously vibrant picture book When We Say Black Lives Matter proves to be a work of inspiring power.
From spread to spread--illustrated in watercolor pencils on cardstock with a linen-like texture--the parents (and additional adults) attentively, lovingly watch over the growing child. The toddler learns early to request "basic RESPECT," a necessity Beneba Clarke heightens with a stained-glass background featuring a figure in chains. That image instantly articulates the sorrow and harm from a history that's "done us wrong." The young child is taught to "raise your voice" because "when we scream out Black Lives Matter... we're saying enough is enough is enough and we need to put things right." The child matures into adolescence, now out alone without hovering supervision; threats of violence loom ever closer because "trouble still STALKS, to this day." Police in riot gear approach, then encroach: a white chalked body outline, yellow-and-black tape barriers, a weeping parent... all too familiar sights because "ain't no freedom till we get ours."
Brutality and fear are undeniably real, but Beneba Clarke chooses to amplify messages of resistance and strength. Multiplying images of clasped, intertwined arms showcase people in varying hues standing together as partners and allies: "when we call out Black Lives Matter, we're saying walk with us." A smile for Black Lives Matter is an assertion that "we are enough" and an expression of "raising our spirits high." For the "Black-beautiful-brave" child, the joy of laughter calls upon the ancestors for guidance "to rise." The flourishing, expanding community both safeguards and uplifts the child, ensuring "when we know that Black Lives Matter, then darling, we know our worth: that we are as precious as every soul whose story has journeyed the earth." When the Black child, grown, graduates into adulthood with hands up in unconditional, triumphant jubilation--not in confrontation, defeat, surrender or supplication--then "we know we'll be all right."
When We Say Black Lives Matter is Beneba Clarke's second title for which she is both author and illustrator; her first, Fashionista, was released in Australia in 2019 and will be published by Candlewick in the U.S. in 2022. When We Say Black Lives Matter has already been shortlisted for the 2021 Australian Book Industry Award for Best Picture Book of the Year. Before Beneba Clarke garnered substantial success--deservedly so--as a children's writer, she was also lauded for her adult fiction and memoir, and celebrated as a slam poet champion as well.
Her artistry here is especially noteworthy--boldly outlined, and bursting with energy and intensity. The actual text remains affectingly unfixed, eschewing straight lines, using dynamic font sizes, italics inserted for emphasis, and certain significant words ("raise," "radiant," "precious") highlighted for even greater urgency. Her figures are varied--shades of brown, young and ageless, short and tall--with features left to the imagination, inviting diverse readers to see themselves on these pages. The textured roughness of the background seems to underscore the challenges ahead for every Black child, their families and their communities, because growing up, alas, cannot and will not be a smooth, uncomplicated transition. The rugged surface also suggests resiliency and perseverance, bearing witness to the figures in constant motion while they "bellow," "stand," "smile," "laugh" and rejoice to the rhythm of "a-thundering on djembe drums."
"I see this picture book as an act of Black Love," Beneba Clarke writes in her back cover author's note. Born and based in Australia, Beneba Clarke identifies as being of Afro-Caribbean descent. Her extended family, she explains, lives "in over eight different countries across the world, including America, Australia, Germany, Barbados, and England." Black Lives Matter--a movement that began in the U.S. as a social media hashtag in response to George Zimmerman's 2013 acquittal for the shooting death of teen Trayvon Martin--went global with the murder of George Floyd on May 25, 2020, by Minneapolis police officer Derek Chauvin. The escalating protests throughout the U.S. led to worldwide calls for racial justice and police reform. With Beneba Clarke's empowering book in hand, parents, teachers, caregivers and all engaged adults have a commanding tool to gently and realistically explain to youngest readers the myriad ways that Black Lives Matter, "in protest and in song, in joy and in sorrow." --Terry Hong