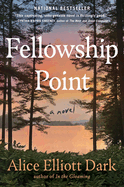 A grand literary novel destined to dazzle readers with an intriguing combination of social drama, satiric wit and moral gravity, Fellowship Point by Alice Elliott Dark focuses on two East Coast dowagers navigating the contours of their eight-decades-long friendship and their roles as stewards of a beloved wildlife sanctuary on the coast of Maine. The 145-acre stretch of unspoiled land includes a salt marsh teeming with eagles and ducks, wild meadows of native plants, forests and a rocky beach. Known as Fellowship Point, or simply the Point, the property serves as the majestic backdrop of Dark's (Think of England) second novel; its history and its future control the overarching theme of this intricately crafted contemporary story.
Fellowship Point opens in the winter of 2000 at Agnes Lee's Philadelphia apartment. She is the celebrated author of a children's adventure book series, When Nan. She also has a second career authoring a series of adult novels called Franklin Square, written under a pseudonym, a secret unknown even to her best friend, Polly Wister. Reeling from her latest cancer diagnosis, Agnes is determined to resolve the future of the Point before her death.
Acquired generations ago by a Philadelphia Quaker merchant named William Lee, the Point is an "Edenically wild" summer retreat divided into shares that eschew traditional ownership rights. It is presently under the control of octogenarians Agnes and Polly, as well as Agnes's cousin Archie Lee. Agnes and Polly want to donate the Point to a land trust. Archie, under the influence of his gold-digging, comically mean wife, Seela, prefers to sell the land to local developers to build a resort, destroying the property's delicate ecosystem and pastoral beauty. Polly's dutiful but disagreeable eldest son, James, a banker who stands to inherit his mother's share, agrees with Archie. As the plot plays out, the question of what to do with the property becomes miraculously clear, leading to a resolution as unexpected as it is simple.
In the delightful tradition of writers such as Edith Wharton and E.M. Forster, Fellowship Point revels in overlapping subplots and a cast of superbly drawn, memorable characters wrestling with delicate questions of the heart as well as social issues of property rights and class divisions. Prickly and sharp-witted Agnes turned to writing years ago as a means of supporting herself. She has no heirs and never married, although she nurses a wistful, devotional love for Virgil Reed, her long-ago neighbor at the Point. Pretty and perpetually agreeable Polly is married to retired philosophy professor Dick. While outwardly her life is jolly and full, Polly yearns for her deceased daughter, Lydia, and seeks solace in cultivating her scented garden.
Dark reveals Agnes's and Polly's pasts in a series of rich inner monologues. Agnes's letters to Elspeth, her late sister, detail her romantic adventures, leading readers to ponder the different paths she might have explored had she lived in a different era. As it was, marriage was presented as a matter of convenience and compromise, a state of affairs both Agnes and Elspeth rejected but which Polly embraced, idealistically hoping for a soulful connection that remained frustratingly elusive during her 60-year marriage to Dick.
Quaker sensibilities such as pacifism and respect for all living creatures permeate the novel. When a local woman is accused of killing a golden eagle at the Point, Agnes and Polly are appalled yet willing to confront the deeper truths behind the land's history as a gathering place for the indigenous people of Maine, realizing that they were "the people who loved [the Point] the longest."
The two women, trailed by Agnes's cat Maisie, form the nucleus around which a younger cohort of characters swirl. These include Polly's boys and a lively rabble of granddaughters; the loyal caretaker of the Point, Robert Circumstance, whom Agnes treats as a surrogate son; and the aforementioned Virgil Reed, a hermit-like writer, and his daughter, Nan, the namesake of the When Nan books. The girl's radiant presence at the Point during the '60s is captured by Dark in enchanting detail. Virgil and Agnes form a writerly bond that veers into the romantic before a terrible tragedy alters their lives forever.
Running parallel to the ongoing drama of Agnes and Polly's attempts to save the Point from developers is the story of an ambitious New York editor named Maud Silver, a single parent and guardian of her mentally ill mother, Heidi. Maud, a fan of the When Nan series, travels to the Point hoping to convince Agnes to write her memoir. As soon as she arrives, Maud feels a spiritual connection to her surroundings. As she and Agnes grow closer, Agnes's secret identity as the author of the Franklin Square series is threatened. Meanwhile, Heidi's story develops in a tantalizing fashion as unexpected truths emerge, and Dark expertly unveils a series of spectacular plot twists.
Fellowship Point triumphantly introduces an uplifting tableau of older female literary role models, a vibrant and agelessly elegant duo with rich histories to share. As the Point's future is settled, it is clear that Dark's octogenarian heroines will have a significant and lasting impact on the lives of all who come after them. --Shahina Piyarali