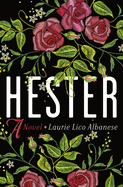 A magnificently crafted 19th-century drama shimmering with enchantments, Hester by Laurie Lico Albanese is the story of a beautiful, talented Scottish needleworker, Isobel Gamble, and her love affair with dashing New Englander Nathanial Hawthorne at the cusp of his distinguished writing career. With the affair and its turbulent aftermath at its literary core, Albanese's sumptuous third novel sets sail from Scotland to Salem, Mass., and beyond on a grand historical adventure, exploring the lingering legacy of witchcraft trials and the struggles of immigrants, including freed slaves, to make a home in the New World.
Isobel narrates, first as a child growing up in the idyllic Scottish countryside and then as a young woman trying to build a new life in Salem. Hester takes root and blossoms around an intriguing, irresistible premise: it imagines the romance between Isobel and Nat--as Hawthorne was known in his hometown--as the inspiration for The Scarlet Letter and Isobel as Hawthorne's muse for his famously tragic heroine Hester Prynne. Isobel's account, she offers, is "the true story of how he found his scarlet letter--and then made it larger than life."
In early 1829, 19-year-old Isobel and her apothecary husband, Edward, leave Scotland under a cloud of financial scandal. They cross the Atlantic on a commercial ship bound for Salem, commanded by Captain William Darling. In Darling she surprisingly finds a fellow needleworker and a dependable friend. Determined and ambitious, Isobel hopes to earn enough money to open her own dressmaking shop and become financially independent from her thieving, opium-addicted husband (who soon departs Salem on another ship, purporting to be a medic). Sentimentality for the family she left behind is a luxury Isobel cannot afford, although she allows herself to daydream about the mythical selkies and faeries of her childhood.
In the bustling port city of Salem, she meets Nat, a tall, caped man in his mid-20s with a limp, who's struggling to make a name for himself as a writer. Nat's family has lived in Salem for generations; this affords him a level of security and acceptance not extended to newcomers like Isobel. Her new neighbors, Zeke, Mercy and Mercy's children, Ivy and Abraham, are kind but secretive, and she forms few friendships.
Albanese resurrects historical figures who contributed to the town's vibrant African American population, including John and Nancy Remond, a couple who created a legacy of hospitality and social activism. Isobel suspects that Zeke and Mercy, who are Black, are collaborating with the Remonds--hiding something--but the sheer scale of their clandestine activities comes into focus only after the drama of Hester reaches a fever pitch and Isobel's true destiny is unveiled.
Albanese captures the busy prosperity and rituals of Salem families: shopping on market day at the wharf, attending church on Sundays. She incorporates the disquieting Puritan undertones from the town's dark past as an epicenter of the witchcraft trials in the 1690s, a heritage that weighs heavily on Salem's inhabitants. Nat's forefathers were responsible for the hangings of many condemned women, and their shameful family history is a burden Nat deploys to fuel his tortured writing.
Any mention of witchcraft terrifies Isobel. Her namesake ancestor, Isobel Gowdie, a historical figure of some fame, was accused of being a witch in 1660s Scotland. Isobel worries about her own proclivity to magic, having inherited unusual sensory traits that enhance the sounds she hears with colors and textures, like the rich, elderberry fruit of Mercy's speech or the soft, slippery melon pink and green of Ivy's voice. Each letter of the alphabet appears to her in a particular hue, with the letter "A" a vibrant scarlet color. An aura of enchantment trails Isobel, from her fiery red hair to the bewitching artistry of her embroidery, her work coveted by society ladies. She keeps her gifts secret, concerned about associations with witchery.
Albanese's elegant writing captures the dynamic, sensual energy between Isobel and Nat in breathtaking detail. Nat's seduction of Isobel is driven by an urgent and compelling need to practice his storytelling craft, so much so that he credits Isobel's very appearance in Salem to his own burning imagination. Isobel is captivated by Nat's ability to openly indulge in a world of fantasy so different from the dull churn of her isolated existence. The calm, rhythmic act of sewing is her salvation; it consumes her and also puts food on the table, and her artistic gifts are part of her allure for Nat. Isobel uses her needle to tell her own stories and discovers in Nat a soul mate she can confide in.
As their relationship intensifies, Isobel's carefully cultivated reputation in Salem society is at risk of being destroyed by the scandal of their affair. In the life path she ultimately chooses, Isobel's raw power flows from her refusal to internalize the shame others attempt to foist upon her, embracing the ideals of self-determination and courage that propelled Hester Prynne to literary feminist fame. In Hester, Albanese has masterminded a thoroughly immersive drama and a memorable, spirited heroine for the ages. Isobel's appeal crosses cultural and generational borders to embody a timeless existential quest for the freedom to love and live as one pleases. --Shahina Piyarali