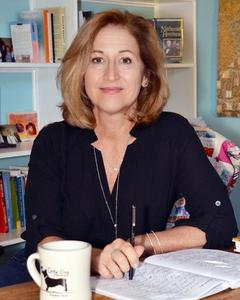 (photo: Martha Hines)
Laurie Lico Albanese is the author of Blue Suburbia: Almost a Memoir; and the novels Lynelle by the Sea; The Miracles of Prato, co-written with art historian Laura Morowitz; and Stolen Beauty. Albanese has worked in book publishing and journalism; her travel and general-interest articles have appeared in the New York Times and elsewhere. She has taught creative and formal writing to all ages, and lives with her husband in Montclair, N.J. Albanese's fifth book, Hester (St. Martin's Press, October 4, 2022), is inspired by the heroine of Nathaniel Hawthorne's The Scarlet Letter.
What was it about The Scarlet Letter and the character of Hester that made you want to tell her story?
Hester Prynne is an iconic heroine, but like Helen of Troy, she has very little to say for herself. Who was she? What would she want us to know about how she came to be the star of Hawthorne's tale? What sorts of decisions and turning points led her to become a ferocious single mother who still inspires us today?
Readers and scholars continue to debate whether Hester is an empowered proto-feminist, or a polemic figure meant to warn women away from passion. I decided I'd let Hester speak for herself, and started out by simply asking: Who are you?
Nathaniel Hawthorne is portrayed in exquisite detail, including the suffering he endures in the pursuit of his art. What drew you to his character?
Nat is a writer, and I identified with him as a young artist struggling to make his way in the world. Writers need grit and a certain hubris, but also a deep vulnerability. It wasn't hard for me to give these attributes to Hawthorne.
I made him the sort of handsome, brooding narcissist that a vulnerable young woman might fall for. Narcissists wound, yet they feel wounded by others and see themselves as victims. This is the narcissist's dilemma as I understand it, and I wanted to explore that on the page. Nat pursues what he wants, without worrying about how his actions might hurt others. Later, he uses his pain for inspiration.
Must readers be familiar with The Scarlet Letter to enjoy Hester?
Hester is a coming-of-age story about a creative young woman whose gift is a curse that is also a lifeline, once she can see it that way. I don't think you have to be familiar with The Scarlet Letter to appreciate Isobel Gamble's struggles, fears or desires.
This is also a love story, and I kept thinking about Heathcliff while I was writing it--also, Mr. Darcy. You don't need to know the original stories to recognize the brooding hero archetype or to feel fascinated as he advances toward our heroine. Is she powerless, or powerful? Does she know how to harness and use her strength?
It's my hope that the two books complement one another.
Would you classify Hester as a romance novel in the way Hawthorne described The Scarlet Letter?
Hawthorne defines "a romance" as a story that reaches beyond what is probable, into a world that is fantastical. "Romance" didn't mean love story, but simply something improbable. I find Hester entirely plausible so, no, it is not "a romance."
In his preface to The Scarlet Letter, Hawthorne says his story takes place "somewhere between the real world and the fairy-land, where the Actual and the Imaginary may meet...." I place my own story squarely in that space, with a firm footing in the Scottish myths of Isobel's childhood.
You write expansively about questions concerning witchcraft and enchantment in the novel. What did you hope to achieve by telling this history from both Isobel's and Hawthorne's family perspectives?
Anyone who lives a creative life is inviting enchantment into their days. How is that summoned, where is it found in our culture and where is it stifled? How is it enriching, and how does it interfere? This is one way I considered the question of enchantment in Isobel's and Nat's stories.
The other was to make them descended from the accused and the accuser in the historical record of "witches." In Salem, descendants of the accused and the accusers in the 1692 witch trials live side by side to this day. Who forgives, and who doesn't? What is the cost? I wanted to let that play out in the story from all angles.
As a recent immigrant, Isobel struggles to gain acceptance in her new home. What is it about the people and history of Salem that makes it hostile to outsiders? Is Hawthorne representative of that hostility?
Although Salem was a wealthy international shipping port in the early 19th century, it was a society closed to outsiders. Hawthorne's ancestor William Hathorne crossed the Atlantic in 1630 aboard the Arabella and was granted land by the Massachusetts Bay Colony under the charter of King Charles. Those descended of Salem's first families were committed to holding onto the wealth and property they'd claimed and fought for.
As a descendant of an original colonist, Hawthorne is a Salem insider. But he's also an outsider because his family has lost their standing and their wealth--his father died when he was four, leaving his mother impoverished. His duality intrigues me, much as it plagued him.
The creative process is an essential element in the love story between Nat and Isobel. Why was that important to you?
Creative tension can be a lot like sexual tension, in that friction is the place where the spark is made. I tried to put that fission into all of their interactions. For Isobel to be more than a muse to Hawthorne, I had to make him her muse, as well. Their flirtatious banter around writing and embroidery is a form of seduction and foreplay. My favorite part of their romance is the way they inspire and embolden one another to greater and more ambitious work.
As a self-described extrovert, how do you mitigate the solitary nature of your craft?
I keep a regular work schedule, stay in close touch with friends and family, play sports and try to get out in nature every day. Nothing mysterious there--in the time of Covid, most of us have found it takes effort to maintain the sustenance of community. I'm extremely thankful to live in a town that has a rich writing community, and to have dear friends who are novelists, journalists, scholars and artists. People matter to me. My husband is in publishing, and we have a wonderful, shared life. Our grown children are big readers, too.
What do you most hope for Hester as you release this story into the world?
I hope readers will embrace this story as a continuation of the conversation Hawthorne began in 1850, when he claimed The Scarlet Letter was inspired by a piece of worn embroidery that he'd unearthed behind a brick in the Salem Custom House.
The Scarlet Letter takes place in 1600s Boston and was published in 1850. Likewise, Hester takes place roughly 200 years in our past. Hester is historical fiction inspired by historical fiction; it's a reconsidering of the tale as a woman's story of empowerment and agency. I think it's time that Hester had her say. --Shahina Piyarali