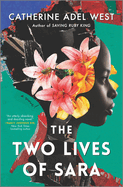 Catherine Adel West's second novel, The Two Lives of Sara, pairs a wrenching portrait of a mother and son in the 1960s with a joyous celebration of Black culture in the South.
Pregnant and unmarried, preacher's daughter Sara King left Chicago to live in a Tennessee boarding house, The Scarlet Poplar. Here she helps out the no-nonsense proprietress, Mama Sugar, in the kitchen and raises her baby son, Lebanon, in the company of a passel of respectable Black boarders. Their dinner-table banter is a pleasure, lightening the tone where Sara, brooding on her situation, might tend toward gloom: "I'm the cynical type. The mean type. The unforgiving type."
Sara tells her own story in a voice as engaging as it is unadorned, sometimes addressing Lebanon directly. "I got on a bus, and I came to Memphis. I birthed you. Mama Sugar and I tell people your father died in a car accident. But that's not true, is it, child?" She recalls her life back in Chicago when, not many years ago, she was a carefree teenager alongside her best friends, Naomi and Violet. The flashbacks gradually shed light on the mystery of Lebanon's paternity. The shame she feels over her son foreshadows a traumatic revelation, one that seems to be connected to her resistance to churchgoing in Memphis. "I've said before church isn't... it isn't something I do. Not anymore," Sara tells Mama Sugar.
At The Scarlet Poplar, Sara also takes Mama Sugar's grandson, Will, under her wing. He's a bright boy who loves to read and discovers classics of African American and world literature under the tutelage of his teacher, Jonas Coulter. Sara frets that the special attention Jonas shows to Will could give the boy unrealistic expectations about what he can achieve. Meanwhile, Jonas serves as a wholesome father figure for Will, whose own father, Amos, a drinker and gambler, frequently gets beaten up--and threatened with worse--by those to whom he owes money.
As romance sparks between Jonas and Sara, he introduces her to the vibrant Memphis downtown. They eat pulled pork sandwiches and listen to James Brown on the jukebox. The Black music scene adds to the novel's backdrop, as does Southern food. Nina Simone is as likely to come up during discussions at the boarding house as is the best way of serving grits. Despite her antipathy to religion, Sara helps with the cooking for the church's Revival picnic, and her caramel cake becomes famous enough for her to consider opening her own bakery.
West has clearly done her research on segregation and the Civil Rights movement. History is a strong undercurrent in the novel. Readers hear rumors about the Freedom Riders and mentions of famous speeches given by John F. Kennedy and Martin Luther King, Jr.--whom Sara's last name inevitably brings to mind. Characters also lament the white appropriation of Black art when Elvis comes on the radio: "Ain't got much against him but all he doin' is singing our music. But he get paid for it. We don't," complains Buster, one of the boarders. Jonas agrees with him: "We create. White people take it and then say it's theirs."
Throughout, there is a solid sense of the time period. The Scarlet Poplar feels like a bastion against the Jim Crow South. There are frequent references to Black colleges, history, leaders and literature. Through the books that Will reads with Jonas, West gives a survey of African American literature that was important at the time and just as relevant today, such as James Baldwin's The Fire Next Time, Langston Hughes's poetry and Ann Petry's The Street. American literature in general is a touchpoint--no doubt The Scarlet Poplar is an allusion to Nathaniel Hawthorne's The Scarlet Letter, the classic tale of an unmarried mother.
The Two Lives of Sara explores one aspect of the backstory of West's 2020 debut novel, Saving Ruby King, but both books can stand alone--this is less a prequel than a companion novel (or "sibling book," as West's editor calls it). Ruby is Sara's granddaughter, and at places in her story there are glimpses into Sara's past, so those who have read Saving Ruby King will appreciate learning more about her.
The hardships she has undergone have made Sara blunt and sometimes even spiteful. She has closed off her heart to pain--but also to love. This is not surprising, given everything she has been through, including the momentous events of her time in Memphis. The book opens with the promise of a second chance for her and Lebanon, but will it be snatched away by fate? Her challenge is to reconcile her past in Chicago with the new life she has built. "Maybe there's a way to unite my two lives, who I was with who I am now," she muses. Readers will be carried along with her heart-tugging story while enjoying time spent in the Black South in the 1960s. --Rebecca Foster