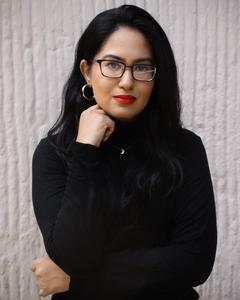 (photo: Yamini Berwah)
Tanvi Berwah is a South Asian writer who grew up wanting to touch the stars and reach back in time. She has a Master's in English literature from the University of Delhi, and lives in India. Monsters Born and Made (Sourcebooks Fire, September 6, 2022) is her first novel. Here, Berwah talks about what inspired the story and how she researched it.
Was a career as an author something you always saw in your future?
Absolutely! As a child, my parents got me children's magazines and comics, and I knew that real people wrote those stories, so that's what I wanted to do as well. Over the years, I considered other careers--such as astronomy and environmental law--but never at the expense of being an author.
What sparked the idea for this story?
Hindu mythology has a brief mention of emerald-green horses at the bottom of the Indian Ocean, and it was such a cool idea to build a story on that I immediately wanted to use it. But The Scorpio Races has already done deadly horses from the sea, and very well at that. It's one of my all-time favorite books! So, instead, my imagination turned from emerald-green horses into this invented creature, a maristag, which looks like a velociraptor with a markhor's head and horns. I had a lot of fun coming up with it--I started to think about the story not just in terms of this one creature, but a whole ocean full of monstrous creatures and what kind of effect that would have on people living on islands.
Take us through how you came up with those "monstrous creatures."
I'm an ocean lover and am interested in learning everything about it, including the extremely bizarre creatures that inhabit the deep. I studied vampire squids, whole books on cephalopods and how evolution takes place in reaches we might never see. One of the more accessible creatures that was the basis of maristags was the marine iguana of Galapagos Islands. I took the idea of the marine iguana and another creature that I absolutely love, the velociraptor dinosaur. It was a process of a lot of mix and match, especially since I wanted the maristags to physically be able to haul chariots. The Scythe Crab, another favorite from the list of monsters, is simply there because my sibling loves crabs. For most of the creatures, I thought about what would frighten me but would also have an element of fun--I wanted these monsters to be scary but intriguing.
How did you come up with this fantasy world? Were there any specific inspirations?
Although I started out reading books that were purely fantasy, I have a deep love of books that blend genres. I specifically wanted to write something that is fantasy but doesn't ignore any technological advances that could be made in any world. Once I knew I wanted to set the story on an island, the rest of it came organically. The nature of an isolated people in an unfamiliar, violent world gave me a lot of ideas: Why would island life be hard, apart from the obvious? Because the sun is unbearable, which makes life dry, deadly. When you're always reading about the climate deteriorating every day in the news, it's bound to stay in the subconscious and show up in this way. And since the islands are surrounded by sea, I researched coasts and remote places like Cnoc na Mara, Cornwall's Pillow Lava, the Giant's Causeway and the black beaches of Iceland, especially Reynisfjara.
Why did you want to include a lovers-to-enemies pairing?
I love a well-executed enemies-to-lovers trope, so I wanted to try the opposite and see where it went. It turned out that the point of contention that turned these lovers into enemies, or at least rivals, naturally served the core story about the class and caste divide, so it seemed like the obvious choice.
What was your experience writing this book? Were you writing or editing at the beginning of the pandemic? How did that affect your work?
Fortunately, I had drafted this book in 2018, which helped me have a good understanding of its world and characters by the end of 2019, when I entered the writing mentorship program Pitch Wars. Participating in it accelerated the re-drafting process so I was done by the end of February 2020. After that, things began to deteriorate, as we all saw. When I started editing with my agent, we were at the beginning and middle of the pandemic, depending on where you were in the world, so things were a bit haywire. And although I hadn't realized it at the time, the news bombardment of how the real-world healthcare infrastructure was overwhelmed and failing played into the story.
What has your experience been like doing publicity for this book? Do you think the move to virtual events has given you more opportunities (or fewer?) as someone living outside the U.S.?
So far, everything has been great. I was also active in the writing community years before I got the deal for this book and, thankfully, made some good friends and built a network, which has been helpful.
I'm sure a lot of people miss in-person events, and I know they can't be replaced, but virtual events truly have made things very accessible, both as a writer and a reader who is now able to attend events and conventions that I couldn't before. And I think it's true not just for me as an overseas writer, but also for American people with disabilities, or those who cannot travel for any number of reasons. So, this inclusivity is only a good thing.
Are you working on anything new?
I'm currently drafting book two which is set in the same world on another island. It expands on the lore and what exactly maristags are and where they come from, which are questions I've been getting a lot from readers who have had advanced copies! I'm excited to finish this book! --Lana Barnes