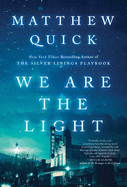 A high school counselor suffering the aftereffects of severe trauma decides to mentor a troubled teen boy in We Are the Light, an alternately dark, tender and funny novel from Matthew Quick (The Reason You're Alive)--his first book in five years. The healing power of art, grief's reality-shattering weight and the resilience of community come together in a series of achingly honest, unanswered letters from a man trying to make sense of a world that has tilted on its axis.
Lucas Goodgame struggles to accept the dissolution of his relationship with his Jungian analyst Karl, who is no longer seeing patients. Since repeated visits to Karl's home office have failed to reinstate their regular Friday sessions, Lucas begins writing him letters signed "Your most loyal analysand." In his correspondence, Lucas confesses that he also has not been able to return to work since the mass shooting at the Majestic Theater, their small town's eponymous indie movie house, in which he witnessed the death of his wife, Darcy; Karl's wife, Leandra; and several other community members at the hands of a former student. During the shooting, Lucas had a vision of the victims as angels in "their collective graceful ascent toward the heavens. Their white feathers sparkling like opals. The steady pulse of flapping. The dignity and glory and compensation." In his letters, he confides that "winged Darcy" has visited and spoken with him frequently since her death. He hasn't mentioned her to anyone but Karl, not even to Jill, Darcy's best friend who moved into Lucas's house to keep an eye on him, or Isaiah, his principal and good friend.
Then Lucas finds 18-year-old Eli, whom he previously counseled, camping in his yard. Winged Darcy tells Lucas, "That boy is the way forward" but will say no more. Lucas realizes his departure left Eli adrift just as Karl's absence has unmoored him and resolves to serve as the youth's Jungian analyst. With Isaiah's assistance, he obtains permission to oversee a senior project that will earn Eli the credits he needs to graduate. Together, the two conceive an ambitious script for a monster movie that Lucas believes can heal the town's pain after the theater shooting. However, making the movie will require help from the other survivors, and convincing them to participate may be difficult, since Eli happens to be the shooter's younger brother.
Quick creates a portrait of Lucas in his own words with all the requisite intimacy and immediacy that make the epistolary novel such a beloved form. Glimpses into his relationship with his emotionally abusive mother and his courtship with Darcy help to ground readers' understanding of the version of Lucas who walked into the Majestic Theater on the night of the tragedy. Post-shooting Lucas emerges not as a broken, pitiful creature or a man utterly out of touch with reality, but as someone struggling to make sense of the unfathomable, a soul who may be lost but nevertheless strives to chart a course for himself and his wounded community. His innate understanding of the cathartic power of art and its connection to "reclaiming and redeeming the monster within all of us" inspires the people around him despite his precarious mental health.
Majestic's overall regard for Lucas shines in how its members care for him, especially a kindly police officer who remembers Lucas's positive influence during his own troubled teen years. Quick creates a strong network of supportive, loving male friendships that sustain Lucas as he works through the toughest season of his life. This portrayal of men lifting each other up and showing authentic, tender emotion feels like an antidote to the frequent portrayal of masculinity as a competitive, aggressive arena.
Although a mass shooting incident underlies the circumstances of the story, Quick never leans into sensationalism but instead focuses on the devastating ripple effect of trauma experienced by the town. Unexpectedly funny moments lift the somber subject matter, such as when Lucas confides that he has felt a momentary distance from Darcy's angelic incarnation, "which made me worry that my marriage might be in trouble," or when Eli's costume malfunction causes a scene at a movie pitch meeting. At its core, the story orbits around the central lesson Lucas has taken from Karl, that "it's everyone's soul's purpose to love, just like it's the job of our lungs and nose to breathe." Lucas's odyssey through grief toward the reunification of his town and the scattered parts of his mind mirrors Jung's theory that disparate parts of the self can be integrated into a cohesive whole.
Filled with everyday guardian angels, this bittersweet, redemptive meditation on rebuilding after the unthinkable reminds readers that beauty can be found even among shattered pieces. We Are the Light is a perfect read for anyone in need of an insightful, optimistic view of humanity's capacity for compassion and growth. --Jaclyn Fulwood