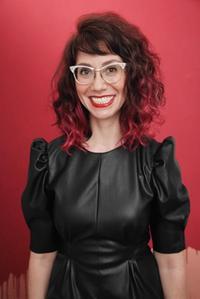 (photo: Mindy Tucker)
Elissa Bassistis an acclaimed essayist, humor writer, teacher and editor of the "Funny Women" column on The Rumpus. She has written cultural and personal criticism for the New York Times and Marie Claire, and contributed to Not that Bad: Dispatches from Rape Culture (edited by Roxane Gay). Bassist teaches humor writing at the New School, Catapult, the 92nd Street Y and Lighthouse Writers Workshop. Her debut memoir, Hysterical, will be released by Hachette on September 13, 2022.
You are an incredibly courageous writer. How did the process of writing Hysterical unfold?
Twelve years ago I felt like I must write a book or die (not to be dramatic). At 26 I expected I should be able to do it; it was only a question of talent, inspiration and caffeine.
I wrote book proposal after book proposal (probably 100, all told). My first idea was The Power of Negative Thinking, a collection of essays that parodied self-help books through personal essays about depression, obsession and addiction. Next was Heartbreak Torture Machines, a book about self-medicating with media and overdosing on it. Then SHUT UP, a book about being silenced and being silent.
I started over again and again, writing and deleting hundreds of thousands of words, weathering hundreds of rejections, just trying to figure out what I wanted to say, what was the point/message/feeling I wanted to convey before I died, and what would--no big deal--turn a reader into a different person on the other side of reading My Book.
(Needless to say, I also spent hundreds of hours in therapy learning how to get out of my own way and to ignore the inner critic who knows two words only: "CAN'T" and "IDIOT.")
I'd write every day and then take months off and sometimes years (like when I became mysteriously ill). But certain stories in my life wouldn't leave me alone, stories that didn't seem to matter that I wanted to make matter. And I was drawn to certain themes, and these themes intertwined and came together, slowly, as one narrative about being hysterical and being called hysterical and the problem of using my voice in a world that doesn't want to hear it. When I could write, I relied on two pieces of writing advice: "Follow your obsessions" and "write like a motherf***er" (this one from Cheryl Strayed).
And just like that... I wrote Hysterical in 11 years only.
If you were to devise a high school class to teach female students how to amplify their voices, what required reading would you assign them?
What a dream job! Will someone please offer me this dream job? I would assign, in no particular order, books across every genre:
Lives of Girls and Women, a novel by Alice Munro
Minor Characters, a memoir by Joyce Johnson
Sister Outsider, speeches and essays by Audre Lorde
Fleabag: The Scriptures, scripts and commentary by Phoebe Waller-Bridge
Bird by Bird, a writing guide by Anne Lamott
Other People's Comfort Keeps Me Up at Night, poems by Morgan Parker
A Room of One's Own, the long essay by Virginia Woolf
Every essay by Rebecca Traister
And (I'm not done)--
The essay collections Men Explain Things to Me by Rebecca Solnit and The Witches Are Coming by Lindy West and Talking Back: Thinking Feminist, Thinking Black by bell hooks
The feminist classics: A Vindication of the Rights of Women by Mary Wollstonecraft; The Second Sex by Simone De Beauvoir (excerpts only; it's a long book); Outrageous Acts and Everyday Rebellions by Gloria Steinem; and Women Who Run with Wolves by Clarissa Pinkola Estés
The following manifestos: Scum Manifesto by Valerie Solanas; Living a Feminist Life by Sara Ahmed; and How to Suppress Women's Writing by Joanna Russ
This class would span the full four years of high school and would include some light witchcraft.
As a writing teacher, how do you guide reticent students to speak up and claim the classroom narrative?
I try to lower the stakes and say things like, "Wrong answers only" and "Ask only the stupid questions now" and "For those who have a question but are afraid to ask it, what's your question?" Also, I don't allow disclaimers or self-shit-talk or apologies, which take up half of everyone's comments and questions, and are wholly unnecessary. (How much time could we save ourselves and each other if we didn't apologize for stuff that needs no apology?) And for every student who says, "Sorry if I'm talking too much," I'll say, "You're not talking enough" with an exclamation point in my voice.
Before writing workshops, I clarify the point in sharing our writing/soul: to help each other and not judge each other on a scale of 0-10. The overall theme is niceness, and I hand out validation tips in the form of this Onion article, "Female Friends Spend Raucous Night Validating the Living Shit Out of Each Other."
Then I explain how, exactly, to give feedback: 1. Genuine praise (the only way to start). 2. Over-the-top praise. 3. Praise but it can be a lie. 4. Praise that must be a lie. 5. Critique but make it sound like praise. 6. Really good suggestions that are also praise. 7. Something Barack Obama would say to Michelle. Praise is dire because everything everywhere all at once tells us to not write, and we don't need another reason. We need reasons to keep writing.
Once everyone is feeling really good about themselves, we can get down to business.
Like the late Joan Didion, you are drawn to acting. Unlike Didion, though, you have actually acted in TV and film. How was your experience working with comedy icon Tina Fey?
Thank you for asking me about my two-day acting career. Although Tina Fey didn't ask me to be best friends, I admired that she ate meals with the crew and the background actors. It's easy to ignore non-famous people, and she didn't. If I'm ever famous, I won't either.
After narrowly escaping a legal career, do you ever think about what area of law you would have practiced if, in an alternate reality, you became a lawyer?
"Corporate litigator" had sounded impressive and wealthy to me. Or whatever law Ally McBeal practices--her firm was full of funny people who were also talented dancers and singers.
As you break your silence and triumphantly release Hysterical into the world, has your health fully recovered from years of suppressing your voice?
In the literal sense, yes. But staying recovered and speaking up are practices (lessons to relearn, realizations to re-experience, memoirs to rewrite, etc.). And since part of my pain was tied to the news cycle, it flares up accordingly, so the pain isn't over because sexism and misogyny aren't over. But that's another book. --Shahina Piyarali