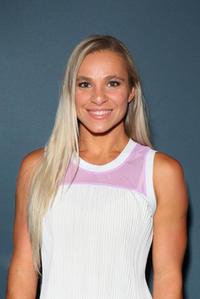 Oksana Masters
(photo: The Players Tribune)
Oksana Masters is the most decorated Olympic/Paralympic athlete in U.S. sports. She was born in Ukraine in 1989 and faced numerous physical challenges due to utero radiation poisoning after Chernobyl. Her memoir, The Hard Parts (Scribner, February 21, 2023), details her harrowing journey through three orphanages, her adoption at age seven by an American mother, and a host of surgeries that included the amputation of both legs above the knee. At age 13, Oksana began rowing and brought home the first of 10 Paralympic medals in four different sports.
Your life has been filled with many difficulties—"hard parts" in every sense of the word. What was the hardest part about writing the book?
The realization that I am still processing my own story--still healing from many things, especially from the first seven years of my life spent living in Ukrainian orphanages. It was hard to put many aspects of my story into words.
Are there any sports books you admire and/or books that helped in shaping your own story?
One of my all-time favorite books is The Boys in the Boat by Daniel James Brown. I've read it multiple times.
What about that book resonated with you?
It's an inspiring story about the American Olympic Rowing team and their quest for a Gold Medal at the 1936 Olympic Games. I loved how the book showed that you don't have to be an athlete to understand or appreciate the sacrifices, the commitment and the dedication that goes into achieving a dream.
So, it's a lot like your book.
Yes, The Hard Parts is meant for everyone to read. Not just athletes. I hope readers come to understand that every life has difficulties and challenges--but the "hard parts" of life aren't forever... they don't have to be the final outcome. In spite of some experiences in life, we have the ability to choose how our stories end.
What changed your story?
Sports. From the moment my mom opened that door to me and I went through it, sports allowed me to manage a lack of control. Sports helped me to channel pain, anger and grief into something positive, rather than allowing those "hard parts" to leave a negative imprint.
You've suffered tremendous challenges in life. And you've also achieved astounding victories. What defines you more--loss or victory?
Loss. I learned how to lose before I experienced victory. The beginning of my life and the beginning of my sports career mirrored each other in that there were a lot of losses and failures. If it wasn't for those losses, I wouldn't have known how much I was willing to sacrifice to not only achieve my goals, but to prove to myself what I was capable of.
Do you consider yourself more of an ambitious person or a competitive person?
I'm both, but probably more on the extremely competitive side.
What does winning mean to you?
Winning isn't about the gold medal or standing at the top of the podium. And no athlete gets there by him/herself. Winning is not done alone. It happens because of equal commitment, dedication and team sacrifice. Whether you're in first place, fifth place or dead last--I simply see it as a way to know what's going well with training and what needs to be improved. And there's always room for improvement.
And your medals, what do they mean to you?
I am proud of them, but to me the memories associated with them are what's most meaningful, rather than the physical medal itself.
You're Ukrainian by birth, adopted into the U.S. Any plans to return to Ukraine?
Now more than ever, I want to go back--not only to meet my birth family, but also to help rebuild after Russia's war against the Ukrainians. I have often wondered why I was the lucky one to get out of the orphanage system. That's why I'd like to go back and give back in some way. I will never forget where I come from. I am proud to be Ukrainian.
After all these years as a top professional athlete, does it get any easier to train and compete?
It only gets harder and harder. At the start, you see gains so fast and they're so big, but when you get to the point where I am now, you work three times as hard for a 1% gain. It's definitely a different type of approach to training and competing. It's kind of like squeezing out the very last drop of a sponge.
Are you training now?
Yes, I'm training for the Paris 2024 and Milan 2026 Paralympic Games. My dream is to end my athletic career on home soil in the U.S. in Los Angeles in 2028. If I can keep myself in one piece, that is!
Body and soul intact... is there another book in your future?
Funny you should ask, as I was joking with friends saying the next book should be titled The Harder Parts, followed by The Hardest Parts! I would like very much to write another book, particularly because this memoir only deals with my early years, from Ukraine to the 2018 Paralympic Games, ending with my first gold medal win. Since then, I've competed in two Paralympic Games. The journey to 2020 and 2022 Paralympic Games had immense challenges, including removing a tumor 100 days out from the start of the Summer Games. I also have dreams of writing a children's book someday.
In your downtime (ha!), what do you do for enjoyment and escape?
I am one of the laziest people on earth! And when I do have downtime, I love to binge-watch true-crime series, while making and drinking an obscene amount of coffee. Coffee is my escape. Someday, I'd even like to own my own coffee shop. --Kathleen Gerard