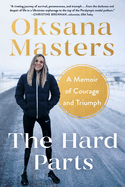 Oksana Masters is the winningest Paralympic or Olympic athlete in the history of U.S. sports. In her propulsive, incredibly inspiring story, The Hard Parts, the 10-time medalist in four different events--elite rowing, biathlon, cross-country skiing and road cycling--details her athletic rise to the top. But in order to fully appreciate her long list of hard-won athletic accomplishments and awards, one must start at the beginning of her extraordinary life, where gut-wrenching trials beset her formative years.
Oksana was a fighter from her birth in Ukraine in 1989. She came into the world with physical anomalies that included a partial stomach, one kidney, six toes on each foot, five webbed fingers on each hand (with no thumbs) and grossly uneven legs--lacking tibia (weight-bearing shin bones)--which forced the innately resilient Oksana to develop her own unique, adaptive gait. Her physical malformations were attributed to Oksana being exposed, in the womb, to radiation from the Chernobyl disaster. Doctors convinced her birth mother that she didn't have the means to pay for extensive corrective surgeries, so she surrendered Oksana to the Ukrainian adoption system. For seven years--in some orphanages that were child trafficking brothels--Oksana endured emotional and physical abuse, rape and a mysterious, inexplicable abdominal surgery. Along the way, Oksana was befriended by a protective older orphan, Laney, who became Oksana's lifelong touchstone.
When Gay Masters, an unmarried, childless college professor from Buffalo, N.Y., saw a picture and description of five-year-old Oksana, she felt an instant connection. Gay believed she'd found her true destiny--and Oksana's. Gay set off with gutsy determination on an arduous, two-year-long quest, riddled with endless red tape, to adopt Oksana. Gay finally brought her home at age seven to the U.S., where Oksana soon flourished--in body, mind and spirit.
Gay resolved to mainstream Oksana in school, clubs and social interactions. She kept her busy and active, encouraging her daughter to begin horseback riding, play intramural volleyball and try out for dance team and cheerleading. Oksana was often met with peers and adults resistant to accommodating both Oksana's ambitions and limitations. Gay remained a tenacious advocate for her daughter's integration and championed her chance for success. She guided Oksana to psychotherapists who addressed issues of PTSD (Post-Traumatic Stress Disorder)--including panic attacks, flashbacks, cutting episodes and abandonment/trust issues--that grew out of Oksana's past Ukraine experiences and ongoing physical challenges. For seven years, Gay shepherded her daughter through an exasperating maze of medical consultations and procedures, as Oksana endured multiple surgeries. As she grew older, both of her legs had to be amputated above the knee--one at a time, years apart.
When Oksana was 13, Gay encouraged her daughter to try the sport of adaptive rowing--competitive rowing modified for athletes with disabilities. Oksana resisted, but when she finally agreed to give it a try, it marked the start of her liberation and empowerment through athletics. She beautifully describes the shift in her outlook: "The boat skims across the river's surface. I can be in control here. Of the movement, the direction, the speed," Oksana writes. "All of the storm that's been raging inside my head, inside my body, I push into the water.... I fall into the rhythm of it." By the time she was 17 years old, fellow athletes and perceptive coaches suggested Oksana consider training for and competing in rowing at the 2012 London Paralympic Games.
While the first half of the book deals with Oksana's arduous early life and the roads she traveled to competitive sports, the second half deals with how, as a young adult, Oksana struggled to navigate her personal and professional life, hoping to "leave a mark" en route to becoming an Olympic champion. Raw honesty infuses each section, as Oksana learned to harness anxiety and negativity to fuel her ambitions. This included dealing with naysayers and a toxic romantic relationship that challenged her self-image. With her rowing partner, Rob Jones, a Marine Corps veteran who lost both legs in a landmine explosion in Afghanistan, they won the first-ever medal for Team USA in "Trunk and Arms" mixed doubles at the 2012 London Paralympic games. The rigorous demands of training and competition ultimately resulted in a back injury for Oksana that forced her to retire from the sport. However, through a series of chance encounters, Oksana took up cross-country skiing and paracycling. She went on to win two medals (silver and bronze) in skiing and also placed in two biathlon events in the 2014 Winter Paralympic Games in Sochi, Russia.
With riveting suspense, the last section of the book delves into grueling challenges and setbacks that plague Oksana as she goes for the gold in cross-country skiing and biathlon competition at the 2018 Winter Paralympics in Pyeongchang, China.
Oksana's road to success is often dark and uneasy, but readers will root for her--completely rapt by the harrowing twists and turns of her journey. Ghosts from her childhood in Ukraine, spurred by Russian conflicts in the region and lingering questions about her birth mother, haunt as much as drive her quest. With every victory, new sets of challenges, new pressures--whether in the form of agents, sponsors, media and photo ops, teammates, romance or even rebellions of her own mind and body--test her will and stamina.
As a true competitor, she taps into amazing reservoirs of strength and mental toughness, and she instills this in others. "You are not the product of where you came from. You are not what happened to you. Regardless of the taint of how you were treated, there's beauty in you," she tells readers. "[W]e heal.... [W]e get stronger.... [W]e're unstoppable."
Oksana Masters's courageous, brave and indomitable spirit make her not only an astounding, legendary athlete, but a role model and a true champion--in every sense of the word. The Hard Parts emerges as a triumphant, unforgettable memoir that shines as bright as Olympic Gold. -- Kathleen Gerard