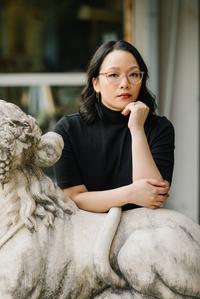 (Heather Wall Photography)
Trang Thanh Tran writes speculative stories with big emotions about food, belonging and the Vietnamese diaspora. They grew up in a large family in Philadelphia, then abandoned degrees in sociology and public health to tell stories in Georgia. When not writing, they can be found over-caffeinating and watching zombie movies. Shelf Awareness spoke with them about their gothic YA horror debut, She Is a Haunting (Bloomsbury YA, February 28, 2023).
The book's underlying focus is the lingering harmful effects of colonization in Vietnam. When did you know you wanted to write about this?
It wasn't intentional at first! I found out my grandma spoke some French as a young girl, so I started wondering, what other things don't I know and probably will never know about my family because of traumas like colonization? That inspired me to write this very close look at one Vietnamese American family's past haunting their present.
How does the friction between Jade and her father help set up the plot with the vengeful ghosts?
Jade and her dad have such a hard time having honest conversations and, like secrets, unsaid things fester. The ghosts have their own wants that may overlap with the Nguyens', and it's almost a game in taking advantage of their deep wishes.
Jade doesn't believe she is accepted as truly Vietnamese and feels like a stranger in Vietnam. What inspired you to write a character who has this disconnect with a place where she knows she should belong?
Jade and I are part of the Vietnamese diaspora. A lot of inspiration came from my broken Vietnamese, because it's harder to connect when you don't have the words to express yourself. At the same time, this disconnect isn't limited to Vietnam; she's treated as a stranger at times in the United States, too, so I wrote from this in-between place of feeling like you are never enough to fit in anywhere.
It's even hinted that college--the reason Jade is in Vietnam--isn't something she is sure she necessarily wants.
As the eldest daughter in an immigrant family, Jade has this inner expectation that she must do something that's worth her family's sacrifices. It's a pressure point that makes her put self-discovery on the back burner.
Being herself is something Jade struggles with, partially because she's reluctant to explore her own identity when she fears being rejected by others.
Yes. There's this interesting transition from middle to high school where many teens are shedding their younger interests and trying to figure out how to present themselves to the world. Jade chose what she thought was the safest path for her at home and in the community at the time, slipping on "roles" that were already immediately around her.
Yet Jade almost immediately is befriended in Vietnam by Florence, the cool boarding school delinquent. Why is Jade able to open up enough to let Florence in?
There's a lot to admire in Florence, who is completely her weird self and doesn't try to fit in. Ultimately, Jade is a teenager who has a weak spot for cute, irreverent girls. Nothing's more intoxicating than the "what if?" stage of a crush!
In almost every description of the house--called Nhà Hoa--you have thoughtfully and beautifully ascribed to it human qualities. How did you decide to make the house its own character?
We spend so much time in our homes, and this was particularly true in 2020 at the height of the pandemic when I was writing this book. Sometimes a house is the only witness to an event or a person's behavior, and I seriously considered how lonely abandoned places must be, particularly the French colonial houses in Đà Lạt--built, then left behind. It made sense to build the house out as a relic with its own intentions. And honestly, the story didn't take life until Nhà Hoa's voice landed on the page.
The house begins the story with its own chapter: "This house eats and is eaten.... when a door opens, it is this: the first page of a menu." Why does the house hunger so fiercely?
Okay, so not everything is a metaphor, but everything is sort of a metaphor! We're told to savor moments with our loved ones, much like we're told to savor every bite of food--it nourishes us. I think loneliness is a type of hunger that goes very deep, and the house needs to sate itself to survive.
Jade and her younger sister share a bond that is rocked by the haunting, and cracking that support system for Jade added so much emotion and tension to the story. How do you hope this inspires teens who relate to this dynamic on a day-to-day basis?
Even when siblings grow up in the same household, they can have very different relationships with their parents. Sometimes just understanding where your sibling is coming from, even if you disagree, is enough to leave your relationship open to healing.
What do you hope young readers take away from She Is a Haunting?
The universe is already mysterious enough with all of its 200 billion trillion stars. You don't have to be a mystery to yourself or bound by others' expectations. Finding your happiness, whatever that looks like, is within your power. --Samantha Zaboski