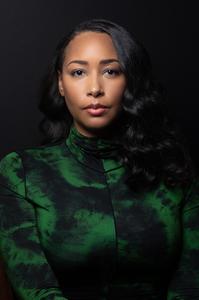 Safiya Sinclair
(photo: Beowulf Sheehan)
Born and raised in Montego Bay, Jamaica, Safiya Sinclair won the Whiting Award for her debut poetry collection, Cannibal (University of Nebraska Press). Her work has appeared in the New Yorker, Granta, and elsewhere. She is an associate professor of Creative Writing at Arizona State University. How to Say Babylon, her first memoir, which chronicles her childhood in Jamaica, being raised in Rastafari, and rejecting her father's oppressive rules as a young adult, will be published by Simon & Schuster on October 3, 2023.
How to Say Babylon is a remarkable achievement. What was the inspiration for your memoir?
I grew up in a strict Rastafari household where voicing my opinion was not allowed. I had to cultivate my sense of self and my sense of womanhood in secret. Writing was the first vessel to hold what seemed to me my truest self. In many ways, I wrote How to Say Babylon as a salve to counteract the silence that was expected of me as a young woman who was raised in Rastafari. Beyond that, the first seed of inspiration for writing How to Say Babylon was the birth of my niece, my brother's daughter. She is the first of the next generation of Sinclairs, and her arrival brought for me a sense of urgency in the book's creation. For her, I wanted to write this memoir to make a record of our family history, and to try to break some of the cycles of violence and generational trauma that seemed tragically fated in a postcolonial nation. I wrote this book so that my niece would know that our family's past would not define her, and that the future was hers for the making.
In writing about your family, you mentioned that it was important to write with nuance and "bring grace to everyone." How did you achieve this necessary distance despite being so close to each family member?
While living outside of Jamaica for the past decade, the homesickness of being away from my family became a potent catalyst for thinking and writing about home. Because we were apart, the distance--literal and figurative--was there. But it was the emotional distance that I found much harder. As I began to write, I found that memory was only a thin gauze over old wounds, some of which never healed. So, the book's nuance had to come from my own crucial recognition that the memoir itself had to be much more than just reporting what happened to me, I had to try to alchemize it as well. I had to first be in an emotional space to write from a place of hope, not from a place of hurt or vengeance or bitterness. I approached writing the hard truths of my life with the primary aim of changing the trajectory of what happened next, rooted in a belief that this memoir could be a vehicle for that change. From that belief came the necessity to see and represent the good in everyone, to try to understand each person in my family's wounds and interiority in their fullness, and to try to paint each of them in a true yet hopeful light, with all the sunshine and salt breeze and mud that makes a human life.
Each Sinclair sibling has achieved phenomenal academic and professional success. To what do you attribute your family's outstanding achievements?
In many ways, growing up in a restrictive household made cultivating a wild imagination, and seeing ourselves beyond those confines, necessary for me and my siblings. The four of us spent a lot of our lives with our heads nested together, dreaming up a place in which we could feel like we belonged, a world in which we could each flourish. Most of us born to humble beginnings in Jamaica understand from a young age that academic success is one of the primary ways to rethread the fate of a life. Luckily, my mother's love of books and learning played a crucial role in nurturing that expansive view of the world, and she helped give us the tools to stake our place in it. With the guiding of her hand, and the hopeful example we found in each other, we each managed to make a life outside the gate, to try to grow into our best selves. And now my niece is blazing her own way, too--she was just crowned spelling bee champion at her school!
You mention that your memoir is not only a look back at the past, it is also "a bridge of possibility to the future." Can you elaborate?
Audre Lorde, in her essay "Poetry Is Not a Luxury," invokes this brilliant futurist vision of poetry's capacity to lay "the foundations for a future of change, a bridge across our fears of what has never been before." All of my writing draws from this same womanist tradition, where literature can be a conduit to invoking palpable action and conjuring change in the world. With How to Say Babylon, I wanted to write a memoir that not only wrestled with the past, but actively sought to break the cycles of hurt--both colonial and familial--by creating new possibilities for the future from its pages.
What do you hope readers will take away from How to Say Babylon?
I wrote How to Say Babylon so readers could have a keener understanding of what the interior life and world of a young Jamaican girl looks like, particularly a young girl who grew up inside the confines of Rastafari. I hope readers come away with a deeper and more nuanced understanding of Rastafari and its place in Jamaican culture and history over the decades. It is also my hope that some of the stereotypes of Rastafari that persist in the global cultural imagination will be expanded. As a writer, I hope that readers will find special resonance in the way that literature and poetry became the tools of my survival, and hope the power that writing has to shift the trajectory of a life shines through. As a woman, I hope any daughter who has a complex relationship with her father or with any religious patriarchy sees the strength of herself in this book, and that she too will speak herself into power. Ultimately, I hope How to Say Babylon gives readers some new insight into my country, my culture, and my history, and that each reader will find their way back to the water here, my little space in the sun. --Shahina Piyarali