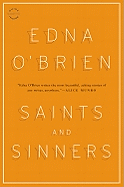 Joyce, Trevor, Toíbín--one could be forgiven the belief that all of the greatest Irish short story writers are men. But a few hours with Edna O'Brien's latest collection, most of them set in her homeland, will put lie to that unwarranted conclusion.
One of O'Brien's preoccupations in the 11 stories of Saints And Sinners is the frictions that arise from Old World class differences. In "Inner Cowboy," she tells the story of Curly, a simple young man who's a witness to an environmental accident and soon becomes ensnared in the effort to conceal it. "Green Georgette" is the wickedly funny account of a disastrous afternoon tea a village woman and her daughter attend as guests of the local banker's pretentious wife.
Though the personal dominates the political in these stories, O'Brien doesn't refrain entirely from exploring a subject that's an unfortunate fact of Irish life. "Black Flower" obliquely touches on Ireland's history of sectarian violence. Nor do all of O'Brien's stories follow a conventional path: "Madame Cassandra" is the stream-of-consciousness rant of a woman on the way to consult a fortuneteller, seeking to confirm the depth of her husband's infidelity.
The collection closes with two strong stories that share the theme of family schisms and illustrate O'Brien's skill when it comes to matters of the heart. "My Two Mothers" sketches the conflict between a mother who "insisted that literature was a precursor to sin and damnation" and her daughter, a writer who "believed it was the only alchemy there was." In "Old Wounds," one cousin traces the course of a family feud, realizing in the midst of it that "with so many dead, there was no need for estrangement anymore."
Marrying deceptively simple prose to the gift of keen insight into the lives of her complex characters, Edna O'Brien reaffirms her place in the company of Ireland's most esteemed writers. --Harvey Freedenberg