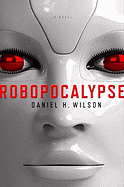 Daniel H. Wilson has been pondering the subject of his all-too-imaginable debut novel for some time and in great depth. In addition to earning a Ph.D. in robotics from Carnegie Mellon University, Wilson is the author of How to Survive a Robot Uprising and How to Build a Robot Army. Now he's transformed these robopocalyptic visions into a swiftly paced and well-crafted thriller that will have readers eyeing their electronics (including their e-readers) with suspicion and no small amount of fear.
The novel is set in the near future and opens in Alaska, where soldier Cormac Wallace discovers a box containing a digital record of the recently ended robot-human war. This record, essentially an action highlight reel of the war, serves as the novel's narrative and very clever framing device.
The notion that our machines will eventually turn against us is strikingly familiar from such science fiction classics as I, Robot and 2001: A Space Odyssey. Wilson reimagines the villain as Archos, a supercomputer so intelligent that its creator feels compelled to destroy it. Naturally, Archos cannot let that happen. Soon, reprogrammed toys start threatening children, cars systematically run over pedestrians, and any device with a wireless port turns into a killing machine. And that's before things get really bad.
Wilson's story raises thoughtful questions about the nature of consciousness, communication, and, of course, the price of technology; above all, however, Robopocalypse crackles with old-fashioned entertainment. The story is smart, scarily plausible and contains bots for every taste. What's more, there is enough intelligent explanation of the ways in which technology actually works to satisfy readers who want a little bit more from their thrillers than, well... deus ex machina. --Debra Ginsberg, author