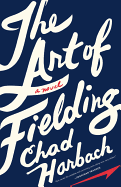 Henry Skrimshander is the perfect natural shortstop, and he's all but memorized The Art of Fielding by the greatest shortstop who ever lived. After finishing his final high school baseball game, Henry is approached by Mike Schwartz of Westish College, who offers him a scholarship. Short, scrawny, awkward Henry turns out to be a baseball phenom. Together he and Schwartz set out to change the course of Westish athletics.
The novel chronicles five changing lives during Westish's first tumultuous championship season: Guert Affenlight, the troubled president of the college who once discovered a lost lecture of Herman Melville and now finds himself falling in love with a student; Pella, his lovely, formerly estranged daughter who has run away from her husband without leaving a note; Mike Schwartz, the catcher from Chicago, a big, hairy mountain of muscle and soul who captains the Westish Harpooners and takes Henry under his wing; Owen Dunne, a gay, mulatto, environmentalist student nicknamed the Buddha, who is not afraid to kiss the college president; and Henry Skrimshander, weaving through all of their lives, the miracle shortstop who begins to doubt himself the moment the pro scouts start making their offers.
The story's many minor characters frequently break into full, three-dimensional life with a telling detail or a revealing comment: Chef Spirodocus, the proud, underestimated head of Dining Services; Adam Starblind, the baseballer with movie-star looks and perfect teeth; Izzy Avila, Henry's protégé who is training to take his place. As all of these characters grow and change and meet each other, they become more and more richly human, multifaceted and so real that when Schwartz and Pella quarrel, you feel their pain; when Pella and her father exchange hurtful words, the reader hurts along with them.
Debut author Harbach keeps the pace moving and is adept at ending his chapters with unexpected lump-in-the-throat revelations. As the Harpooners work their way closer and closer to the championship they've never won, as Henry becomes a greater and greater liability, the novel hurtles toward its unguessable ending and the suspense of the final game. --Nick DiMartino