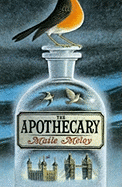 Maile Meloy (Liars and Saints), in her first work for young people, sets her tale of spies and magic in an unassuming flat on St. George's Street in 1952 London, an area that hasn't seen chocolate bars for years. She sidles into a story that starts big and gets bigger until 14-year-old narrator Janie Scott and her new friend, Benjamin Burrows, find themselves at the heart of a fantastical Cold War battle.
Meloy's precise historical details anchor the book nicely, yet manage not to draw too much attention to themselves. The writing is clear and dramatic in all the right places, and her pacing is fantastic. For example, in one painful scene, a truth-telling herb forces Janie to admit that she fancies Benjamin, and he in turn admits that he likes rich and pretty Sarah Pennington, and the scene stretches out at just the right, mortifying pace (as do the repercussions of those revelations).
Aimed at middle-grade readers, the book will also appeal to teens, thanks to Meloy's unusual but well-considered choice to allow the adult voice of a grown Jane Scott to tell the story. And even though Janie serves as heroine, there's enough magic and action to charm many boys.
As the plot darkens, even reluctant readers will find it hard to pull away from the intrigue. A level of storytelling this high, with Schoenherr's fabulous illustrations as chapter openers, make this book a gem indeed. --Stephanie Anderson (aka Bookavore), manager of WORD bookstore