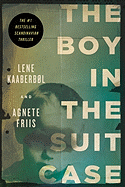 The opening page offers a glimpse of a naked three-year-old boy, drugged and folded into a suitcase stuffed into a railway baggage locker in Copenhagen. In Lithuania, his mother has been found concussed and drunk at the foot of the stairs at her house--but she's not a drinker, and her panic over the disappearance of her son is very real.
Having transferred funds to his bank to pay for the human cargo, the boy's kidnapper is delayed trying to fly back to Copenhagen. He has no choice but to make an emergency call to a trusted employee who, in turn, phones an old friend to ask for a favor, a favor that involves a locker in a train station.
That old friend is thin, boyish-looking Red Cross nurse Nina Borg, who gets the call shortly before her friend is found murdered in a near-deserted holiday cottage park. Nina is a medical volunteer helping illegal refugees, knowing how merciless Denmark can be for "the broken human lives that wash up on its shores." It's risky work that frequently keeps her away from her own husband and two children.
Here's a thriller that actually thrills, where you care about the characters, and the consequences are dreadful. The grim mystery of what exactly is happening to kidnapped children gets resolved two-thirds of the way through this relentlessly paced book, but that's only the frosting.
Fantasy writer Kaaberbol and children's author Friis reveal new depths of deception and evil as the terrible truth surfaces. Their characters are complex (the kidnapper has given a kidney to try to save his adopted child's life), and their situations always ring true. The multiple plots expertly converge at a sinister house on a cliff in an intense, violent confrontation that brings all the complicated and desperate main characters face to face. The Boy in the Suitcase does it all exactly right. --Nick DiMartino, Nick's Picks, University Book Store, Seattle