In the summer of 2005, Jesmyn Ward was visiting her family in Delisle, Miss., after having received her MFA in creative writing from the University of Michigan. Hurricane Katrina was expected to hit just a few days before the beginning of the fall semester, when Ward was returning to campus to take up a teaching position--her plan was to leave as soon as the storm was over. "I'd lived through a Category 3 hurricane," she recalled. "I thought it would be like that."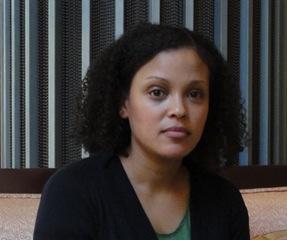 She ended up staying in Mississippi for more than a week; her car had washed away in the flood, and she didn't make it back until she could get a ride to Mobile, the nearest place she could pick up a rental car (and wound up taking several younger relatives to stay with her in Michigan until the power was restored back home). But it took several months and the urging of a mentor before Ward wrote an essay about her Katrina experience, after which it would be years before she revisited the subject when she began writing her second novel, Salvage the Bones.
"That experience was so terrifying I don't think I came to terms with how terrifying it was," she said. "How demoralizing it was to witness that devastation and then live with it every day afterward.... You watch the hurricane unmake the entire world, all around you. But there was something essential about home that the storm could not take. The community endured. And I had to realize that in order to write about that experience."
The odds that people would read that story, though, were not initially strong. Salvage the Bones was Ward's first novel with an imprint of a major commercial publisher (after debuting at Agate in 2009 with Where the Line Bleeds) and, despite the best efforts of Bloomsbury's publicity department, review attention was scant. Her recent National Book Award for fiction, though, may change all that.
It's already far more success than Ward ever expected, or hoped for, as a writer--and may serve as a powerful reassurance to any of her loved ones concerned about her career choice. "I remember when I was five years old, my mother was trying to teach me to read and telling me I would go to college one day," Ward reflected a few days after receiving the award. "Most of the people in my town are poor and working class, so my mom and my family had other hopes for me [besides writing]. They wanted me to go into something that was more stable, and I tried to fight the urge I had to write in high school, and especially in college." She also struggled with feelings of inadequacy when comparing her background to that of her more affluent college classmates. Then her younger brother was killed by a drunken driver, and she realized that she had to try to do something meaningful in her life, however much time she might have. "When I finally decided to try to write, I realized that this is what I wanted to write about--the place I came from and the people in that place."
Ward is currently teaching at the University of South Alabama, and that gives her plenty of opportunities to return to Delisle to visit family and friends. "For them, I'm still little Mimi who used to run around barefoot in the summer and play in ditches and read books all the time," she said. "They don't let me forget it and I don't want to forget it." --Ron Hogan