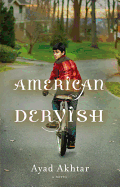 In the prologue of this moving, insightful story about religion and family, immigration and assimilation, narrator Hayat Shah recalls a watershed moment: at a college basketball game, he and two friends order two bratwurst and a beef dog from a vendor. When they get three brats, Hayat decides he has no reason not to eat one. And after, he feels transformed.
The evening after the game, Hayat's mother calls to tell him that Mina had died--his mother's best friend and the person who'd had the greatest influence on his life. He is deeply grieved, and feels a haunting guilt as well. How that bratwurst sums up Hayat's journey from his Pakistani, nominally-Muslim home in a Milwaukee suburb; the sifting through life lessons to find what really matters; what he learns about true faith as opposed to formulaic faith; and what he learns about hate and sacrifice--all are limned beautifully and powerfully by Ayad Akhtar as he tells Hayat's, and Mina's, story.
Akhtar's explorations into the tension between the universal truths of a religion and literal readings of its documents play out effectively in his debut novel. A master of scene and dialogue, and evocative prose, he's created a compelling and visceral story. When Mina teaches Hayat to listen to the still small voice within that can be heard only by finding the silence at the end of a breath, Hayat tries, and discovers what will continue to inspire him to find the still, small voice hidden between and beneath each breath, and, with it, wisdom and insight. --Marilyn Dahl, reviews editor, Shelf Awareness
Read more about American Dervish in our Maximum Shelf.