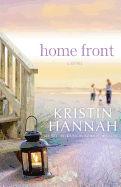 Jolene Larsen grew up with alcoholic parents, believing that some families were like well-tended parks, others like battlefields, "littered with shrapnel and body parts." Determined to create a well-tended life, she found the means at 18 by joining the army, where she met her best friend, Tami Flynn. They spent 10 years in the service, then, with marriage and motherhood, moved to the National Guard. Now, at 41, Jolene Zarkades has that tidy park: her husband, Michael; two daughters, 12-year-old Betsy and four-year-old Lulu; Tami next door; and work--she and Tami are Black Hawk helicopter pilots in the Guard.
A few days after Jo's birthday, Michael tells her, "I don't love you anymore." The next day, she and Tami are deployed and she must go. In Iraq, on an air mission to rescue troops, her copter is hit by rocket fire and crashes. She wakes up in a hospital, about to lose a leg. She's consumed with anger, bitterness, exhaustion, loneliness; her days of smiling through pain and loss are over. Her well-tended park is in shambles. She has no idea how to be.
Kristin Hannah has written a passionate story of war's cost to a family and the cost of silence. She weaves the two sides of a soldier's heart: the damage and the horror inflicted upon it, the honor and pride that make it beat. Jo is a hero, and her life from its start is a hero's journey--psychological, spiritual, physical. It's made with others--family, the Guard, Tami--and it's a journey that we are privileged to share. --Marilyn Dahl, book review editor, Shelf Awareness
For more on Home Front, check out our Maximum Shelf.