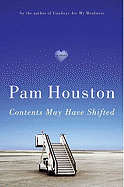 Pam Houston's first story collection, Cowboys Are My Weakness, set the tone for her later work and its recurring themes of high adventure in faraway places, looking for love in all the wrong places, mystical visions and great, enduring friendships (with men, women and dogs). Billed as a novel, Contents May Have Shifted is a strongly autobiographical story of an adventurous woman who has a ranch in Colorado and teaches at the University of California at Davis and at writing workshops, but this time around, it's (just barely) possible that her bad juju with men is fixed.
The story is organized, if you can call it that, in snippets of travel essays that skip around the world, from Tibet, Lhasa and Bhutan to Colorado, Mississippi and Wisconsin (and many other locales). Pam is a girl on the move. What she is moving away from this time is Ethan, a world-class jerk, with whom she has been on and off for four years. When Pam tells him that she is no longer interested in being one among many, he says, in a brief but devastating sketch of character: "Pam, men in third-world countries treat women so badly, those women actually think I'm treating them well."
One of the recurring characters in Contents May Have Shifted is the irresistible Janine, an acupuncturist, masseuse, seer and sage. Janine and Pam's hikes, travels and parties make the reader want to be there enjoying the fun with them. --Valerie Ryan, Cannon Beach Book Company, Ore.