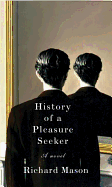 Piet Barol is the eponymous hero of Richard Mason's History of a Pleasure Seeker, a novel set in belle époque Amsterdam. The handsome, sexually adventurous Piet is eager to leave provincial Holland behind; he's well-educated, fluent in several languages and musically gifted, so he becomes tutor to the young scion of one of the wealthiest families in Amsterdam.
The lady of the house, Jacobina Vermeulen-Sickerts, is utterly charmed by Piet and his piano playing. Jacobina has two daughters, Louisa and Constance, both of marriageable age, and an agoraphobic, obsessive-compulsive eight-year-old son, Egbert. Meanwhile, the patriarch of the family, Maarten, made a vow to God that if He would send him a son, he would never have carnal relations again. It's a set-up made in heaven, or thereabouts, for the randy young tutor.
He courts the family with music and charisma, and does, indeed, get Egbert to leave the house. In the fullness of time, arrangements are made and unmade and Piet leaves Amsterdam in a hurry. Despite the circumstances of his departure, he leaves the household in a happier state than he found it.
He sails to Cape Town. Always the opportunist, he ingratiates himself to a wealthy man seeking his own pleasure, then gravitates toward Stacey, a shipboard chanteuse as self-interested as himself.
The style and vocabulary are perfect for the novel's setting and the time period, and Mason's use of music sets exactly the right mood for what he wants to accomplish. --Valerie Ryan, Cannon Beach Book Company, Ore.