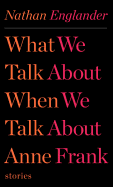 You don't have to read Yiddish to appreciate What We Talk About When We Talk About Anne Frank, the new story collection from Nathan Englander (For the Relief of Unbearable Urges)--but it helps. While Englander's stories range across time and geography, his characters nearly all live under the cloud of the Shoah and the long Jewish history of migration, argument, suffering, survival... and always stories.
Englander's stories here have a broad reach. "Sister Hills" encapsulates the history of Israel while exploring the nature of loyalty, contracts and family ties. "Camp Sundown" describes a Berkshires summer camp for the elderly where a few of the more orthodox bridge players soon begin to harass a fellow camper whom they imagine to be a former guard from the "real camps"--a feud that ends with slander and violence. Although most of the stories center on Englander's clear interest in the role religion and history play on his characters' lives, they also transcend these narrow themes to address the universal with humor and subtle observation.
Perhaps the story most endearing to book people will be "The Reader," where an aging novelist makes a bookstore tour promoting his long-delayed novel only to find that he no longer has an audience--except for one dedicated fan who trails him to each store and insists that the old writer read, even if he is the only one there to listen. The unnamed "Author," a slow writer, reflects: "A book every ten years, it's like being a cicada. You spend all those years underground, busy staying alive. And when you finally burrow your way back out, you never know what world you will find... still one must stand by one's story.... how much richer could a writing life be than finding, even for one night, one true reader?" --Bruce Jacobs, founding partner, Watermark Books & Cafe, Wichita, Kan.