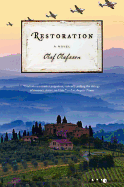 Just before World War II, Alice, a British ex-pat living in Italy, marries Claudio Orsini, much to the disappointment of her family, who believe he is beneath her. When they are looking for a place to live, a friend points them to a tumbledown ruin. They devote themselves bringing it back to its original splendor. In time, they have a son and their happiness is complete--for now.
In an interwoven story, Kristin, a young artist from Iceland, goes to Rome to study and connects professionally and romantically with Robert Marshall, a Renaissance expert and art dealer. Robert finds work for her at his studio.
In the summer of 1940, as war looms ever closer to Tuscany, Alice, lonely and bored, goes to Rome to visit friends and reconnects with an old boyfriend. Robert witnesses her indiscretion and exacts a hard price for his silence. He asks her to hide a painting--a Caravaggio--that he has sold to the Germans. What neither of them knows is that it is not really a Caravaggio; Kristin has painted it to humiliate Robert for his having left off being her lover. Kristin soon realizes the cost of what she has done and travels to the Orsinis' villa to destroy the painting.
When Olaf Olafsson isn't serving as an executive v-p at Time Warner, he writes critically acclaimed novels (Walking into the Night; Absolution) and short stories (Valentines). His literary skills bring Restoration to life on a windy Tuscan hilltop north of Florence. --Valerie Ryan, Cannon Beach Book Company, Ore.