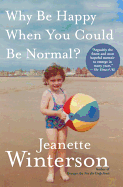 In Why Be Happy When You Could Be Normal?, Jeanette Winterson pairs a history of her fierce girlhood with the saga of her midlife search for her biological mother, whom her adoptive mother had always pronounced dead. Many of the events Winterson describes in her memoir echo scenes from Oranges Are Not the Only Fruit, her 1985 debut novel that won the Whitbread Award (but not her mother's respect). Neither book subsumes the other, though: where the novel's set pieces projected outward with black humor, the memoir peers inward with a startlingly compassionate attitude.
The title comes from a question posed by Winterson's adoptive mother, a Pentecostal evangelical from the north of England, after neither exorcism nor the threat of banishment compelled 16-year-old Jeanette to renounce her love for another girl. Mrs. Winterson's idea of being normal included wallpapering all through the night to avoid her conjugal bed and routinely locking her daughter in the coal-hole.
Winterson skips from her undergraduate days at Oxford to her 40s; the memoir's second half chronicles her mental breakdown after she finds adoption documents in her father's possessions. She is helped through the subsequent legal quest for the truth about her biological parents by her lover, psychotherapist and author (Fat Is a Feminist Issue) Susie Orbach.
Winterson's memoir is a tribute to the salvation of narrative, a salvation she found as a teen on the shelves of the public library, in the paperbacks she bought with her wages and hid under her mattress (until Mrs. Winterson burned them) and in the books she went on to write herself. --Holloway McCandless