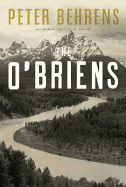 "There was a restless instinct in the family, an appetite for geography and change," Peter Behrens notes near the beginning of The O'Briens, his epic novel of an immigrant clan that spans more than three-quarters of a century, criss-crosses North America and encompasses four generations--all the time fulfilling that early foreshadowing in grand, heartbreaking, poetic prose.
As a boy, Joe O'Brien takes responsibility for his ailing mother and younger siblings, shielding them from his abusive stepfather and the poverty of Quebec's timber country, building a logging business by 18. Pragmatic and determined, he leads the O'Brien children out of the wilderness, finding opportunities for two sisters and a brother to pursue vocations while the two older brothers set off for the promise of California.
Released from the backwoods and haunting memories of his family, Joe's energy is unflagging. While his mood is often dark, his generous spirit perseveres, and he weds the independent Iseult in Venice, Calif. They travel to Mexico, British Columbia, and back to California, Joe's railroad empire (and their family) growing as the First World War looms. Behrens adroitly skips years, scooping family and world history into neat summaries without sparing the drama of war, business risks and tragedy.
By 1917, the prosperous family is settled comfortably in Montreal, but the war cannot be avoided forever, and the next generation of engaging O'Briens faces conflicts of their own. Joe's flaws are apparent but we know his heart is true, and we come to love this family as much as he does. --Cheryl Krocker McKeon, bookseller