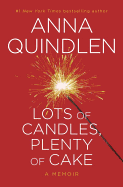 If there's an upside to aging, it might be that we're sharing it with Anna Quindlen, with her "Ah-HA!" moments and attitude of gratitude. Boomers have always enjoyed being a majority, but Quindlen's essays have been mainstays of optimism, her realistic yet upbeat tone ever present in her New York Times and Newsweek columns--and in the memoir Lots of Candles, Plenty of Cake, which ends, characteristically, "...to be continued...."
A Quindlen fan once described a "Life in the 30's" column as "fridge worthy," posting it where women place significant memos. In that column (collected in Living Out Loud), Quindlen took seriously her role as spokeswoman. "Sometimes I would think I was the only person alive concerned about some crazy cul-de-sac of human behavior," she writes in Lots of Candles. "Then I would get letters from readers and realize that was not the case, that we were not alone, any of us."
From the perspective of middle age, Quindlen addresses sandwich-generation responsibilities, the joy of parenting, the angst of girls pining to be size zero and consumerism (admitting to a love of goods, from shoes to throw pillows). Throughout, she emphasizes not the moments that have "passed us by" but "the pitfalls we've skirted."
Just as A Short Guide to a Happy Life is the perfect graduation gift, Lots of Candles will delight moms (as well as readers who want to treat themselves to Quindlen's wit and wisdom). --Cheryl Krocker McKeon, bookseller