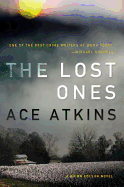 When Ace Atkins introduced Quinn Colson in 2011's The Ranger, the army Ranger came home on leave and exposed a corruption ring responsible for the death of his uncle, the local sheriff. In the sequel, The Lost Ones, Colson is done with military service and wearing the sheriff's uniform when the suspicious death of a foster child leads him into a hornet's nest of illegal activity, including running guns and selling children.
Despite Atkins's dark subject matter, he manages to weave an exceptional sense of humor into this novel. From Colson's wise-cracking chief deputy, Lillie Virgil, to the often humorous conflicts the new sheriff encounters when he has to observe county law as opposed to wartime protocol, there's an easiness in the tone that balances the ugliness of the crimes.
Caddy, Colson's sister, returns to play a prominent role, revealing more of the family history, and Atkins seems to be setting up Colson's disabled veteran buddy, Boom, for substantial face time in future novels. All of the characters have their dysfunctions, but the weaknesses of any one fit nicely with the strengths of the others, creating a cast of essential characters rather than one standout.
As the various elements of the plot weave together, the significance of the title grows. In some way, we're all lost, and that common thread will allow readers to connect with the novel on an intimate, personal level. Following up an Edgar-nominated novel can be a challenging task--with The Lost Ones, Ace Atkins makes it look easy. --Jen Forbus of Jen's Book Thoughts