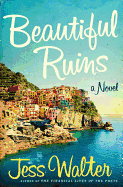 Jess Walter (The Financial Lives of the Poets) gets better and better with each novel, and Beautiful Ruins has hit the trifecta: an irresistible story, rich characters and captivating Italian and Hollywood settings.
On an ordinary day in Porto Vergogna, an American actress, Dee Moray, is brought to the shores of Pasquale Tursi's pensione to rest from a terminal illness and to wait for A Man to arrive.
In several stories within the story, which moves from this small Italian village in 1962 to present-day Hollywood, Spokane, Wash., and Sandpoint, Idaho, we learn of Alvis Bender, who comes to Porto Vergogna for two weeks every year to write his book; in seven years, he has completed one chapter. We meet Claire, script reader for Hollywood producer Michael Deane, a devious conniver. Shane Wheeler is a writer with a pitch who enters the scene and becomes a translator at a crucial moment. In the background is the filming of Cleopatra. Liz and Richard are squabbling, drunk, breaking up two marriages.
It turns out that Dee isn't dying; she's pregnant. The baby's paternity is a stunner. Instead of going to Switzerland for a discreet abortion, Dee has the baby, names him Pat and gets on with her life. Pat and his girlfriend, Lydia, figure prominently in the story's wrap-up.
The story segues back and forth through years and characters and its entirety is sweetly and slowly revealed. This is a ripping great story filled with moments of hilarity, poignancy, dreams and invention. --Valerie Ryan, Cannon Beach Book Company, Ore.